Feature So there you are in the cinema. Watching Titanic again for some reason. Kate Winslet has just saucily suggested to Leonardo Di Caprio that he paints her like one of his French girls.
Then she leans over and pokes you in the eye.
What happened there? You've got a fair idea how 3D films are made, and you're pretty confident that if Jim Cameron had taken a stereo camera rig onto the set of the most successful movie ever made you'd have heard about it by now.
Someone's been messing around with our films.
Our perception of depth is (almost) completely dictated by the placement of our eyes. Each eye has a slightly different view of the objects in from of us and the differing perspectives are assembled by some neurological parallax magic into a three dimensional scene inside our brains. 3D movies "cheat" this system by using glasses to deliver a different image to each eye.
The result is a fiction, but like the rapid succession of still images that makes movies, it's a fiction that most of us can readily accept.
World War Z - (Close Up) – a video made by the chaps at Prime Focus World Official (hosted on Vimeo).
The idea of 3D movies is older than you think. William Friese-Greene devised a system that used synchronised side-by-side projectors and hand-held stereoscopes in the last years of the 19th century. The complexity of both camera and projection equipment, though, meant that it was never anything more than an experimental novelty.
The popular perception of early 3D films is one of those little cardboard glasses with tinted red-and-green lenses. In fact, all sorts of technological creativity was applied to the problem of simulating depth. In 1922 an entire cinema was wired with synchronised shuttered glasses to enable a full frame to be delivered to the audience's left and right eyes in turn — relying on the same persistence of vision that made moving pictures work in the first place to create stereo images in the brain.
Eventually, after a great many false starts, the polarised lens solution we know today became standard. Even so, making 3D movies still required bulky 3D cameras, which rather limited the scope for directors to do much creatively with the medium. While,almost from the beginning, attempts were made to post-process "flat" footage into 3D, it hasn't been a practical possibility until very recently. As with a lot of modern problems, computer magic has delivered the solution.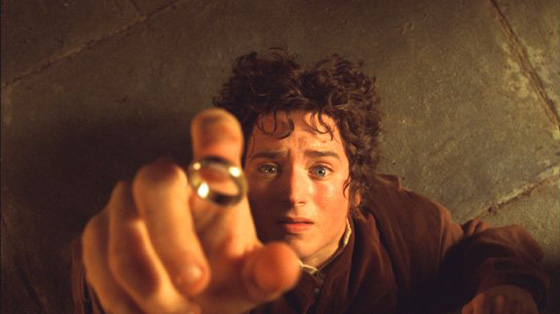 Simulating depth: Elijah Wood in The Lord Of The Rings trilogy. © 2009 Paramount Pictures
The solution takes us right back to the early days of cinema. In 1915 Max Fleischer devised a technique of tracing over live action footage to produce uncannily lifelike animation. You can see good examples of rotoscoping, as the technique became known, in Disney's 1937 Snow White.
Or, if you're child of the '80s, A-Ha's Take On Me video.
To build a 3D image from a 2D original, the picture is separated into foreground and background elements. Then a version is created for each eye, introducing artificial parallax by moving foreground elements slightly relative to the background.
Of course we don't live in the world of Blade Runner. The camera can't reconstruct the background behind our slightly shifted cut-outs of Kate Winslet. Instead, artists at 3D conversion facilities recreate the "missing" background using cloned areas from elsewhere in the film. If it's done badly, the effect can resemble a Victorian toy theatre, with flat characters hovering in front of dimensionless scenery. If it's done well, the results can actually look more natural than the dedicated stereo-camera approach.
The masters at work
An awful lot of high-tech know-how and low-tech artistry goes into making sure things don't end up looking flat. I visited the London studios of 3D conversion specialists Prime Focus World to find out more. When I visited they were putting the finishing touches to World War Z, and I got to see how 3D conversion can do a lot more then just create an imaginary room behind the screen.
To avoid the "Victorian theatre" syndrome, multiple elements in an actor's face are separated and placed in their own 3D space. And that makes it possible to subtly tweak the elements of a performer's face to make them look more interesting or, as in this case, more like a ravening zombie.