Webcam stripper strikes back at vicious 4Chan trolls after year of bullying
'Their hateful lives motivate them to hate people they don't know'
A webcam stripper has hit back at creepy trolls who subjected her to a sick year-long campaign of online abuse that made her cry on camera.
Nina Jaymes, 40, offers sweaty-palmed keyboard bashers the opportunity to pay her money to watch her disrobe on screen.
But the message board she uses to chat with her clients on her webcam site is repeatedly flooded by sadistic trolls from online community 4Chan - who bombard her with misogynist filth in a bid to make her cry and "watch the make up run down her face".
This week the cyber-stripper, who lives in Florida, mocked the weirdos by revealing that their sickening campaign has actually boosted the earning power of her curves.
Writing on her message board after another deluge of trolling last night, she said: "I make plenty of money during your raids, enough to take the next day off. Why would I continue to cam if the money was NOT worth it. I would not. Monitoring high-school kids is not that exciting for a 40-year-old!"
Today, she told El Reg: "They have been bullying me every day for an entire year.
"Their hateful lives motivate them to hate people they don't know. It's a community, a way for them to fit in when they feel they cannot fit in anywhere else in society. Basically I think they want you to feel the way they feel on the inside. So they pick on anyone online who is vulnerable or sad or crying."
A fresh onslaught against Jaymes started within hours of her post last night. One troll from 4Chan's infamous /b/ board wrote: "Get in here already. She is getting more mad as we speak."
The comments then became more and more vile. "I want to see the makeup run down her face again," another troll wrote. "She's already hating on men. Come on on guys, she's getting riled up," scrawled a third.
Despite repeated calls to the FBI and police, the trolls have kept coming.
"I don't think there is any other solution other than to shut down [4Chan] or any of the sites where they congregate," she said.
Footage of Jaymes breaking down on her webcam during one particularly cruel episode of bullying was recorded and viewed by almost one million people last year.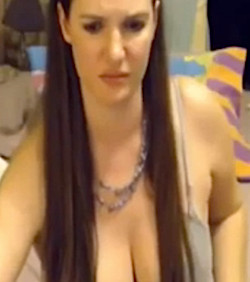 Breakdown ... Jaymes on webcam
The recorded video of Jaymes coming under attack from trolls makes for grim viewing. After shouting at those barraging her with insults, she yelled into her webcam: "I think God forgot about me. God forgot I existed. He didn't provide me with anyone. God did give me sexy boobies, but I worked hard for them. But God forgot about me. He didn't bring me anything or anyone."
She added: "I've become dead inside. I want to die. There is no love for me in the world any more." Then even as she broke down in tears, the offensive messages continued. "Do you not have a real job," Jaymes screamed as she banged on the table in anger. "Can't you stop doing this?"
Explaining how she now copes with the abuse, Jaymes told The Reg today: "I tried everything to get rid of them. So now I talk to them on their site and now it's not fun for them because I know where they are and what they want to do to me."
Trolls have been all over the news for weeks, after feminist campaigner Caroline Criado-Perez and Labour MP Stella Creasy were targeted by some who made criminal rape threats against them. And a 14-year-old British girl took her own life after she was bullied on ask.fm, her father said. ®
Bootnote
Vulture Central's backroom gremlins point out that not all trolls post criminally offensive threats of sexual or physical violence. To troll in and of itself – writing insulting, humiliating comments like "fanboi" in order to get a rise out of the target – is not against the law. Posting a direct threat of rape or violence, however, is a criminal offence in the UK.