British ankle-biters handed first mobe at the age of SEVEN - Ofcom
By 12, they're too cool for a featurephone
Children receiving their first mobile phone are, on average, just seven-and-a-half years old, claims the latest survey – although these figures contradict official stats from Ofcom.
The new survey comes from mobilephonechecker.co.uk, which asked just over 1,000 parents the age of their kids when their hapless carers gave them a handset, with 7.5 years being the average.
But when Ofcom put the question to 1,717 parents, as part of a more comprehensive study, it put the age of receiving one's first handset at about 10 years, highlighting that by the time kids turn 12, only a smartphone will suffice.
The new survey tries to compare attitudes with those of a decade ago, claiming that in 2003 the average child would be 13.2 before getting a handset - the phone in question probably being a Nokia 3310. But to draw such a comparison is to ignore the huge changes in mobile telephony over the last few years.
A child in 2003 wanted a phone to look grown up, and got one because paranoid parents couldn't face leaving them to wander the world unprotected. A child in 2013 wants a mobile phone to play Candy Crush Saga – the communications capability is strictly a side effect.
British children transition into secondary school at 11, the point at which Ofcom's figures show the desire for a games-capable handset really kicks in. Up to that point their parents might have fobbed them off with a cheap 3310 – but once their mates are playing Angry Birds, the handset in their pocket will place them in the classroom hierarchy.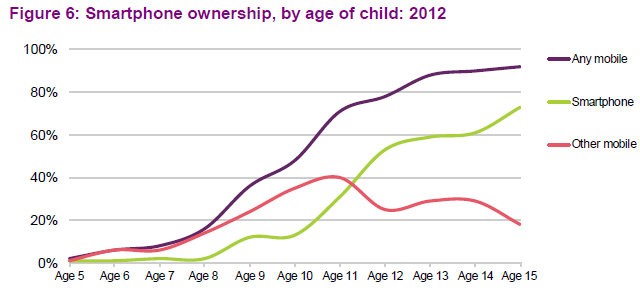 Ofcom carried out a pretty comprehensive study of children's media consumption habits last March (PDF, long and detailed)
Mobilephonechecker's survey reports that 74 per cent of the parents issuing phones to their pre-teen kids did so out of fear, while 22 per cent just wanted to keep up with the Jones's kids. The remaining four per cent are presumably not sure how their children got hold of a handset.
The right age for a mobile phone is hard to judge. With every adult already equipped with at least one handset, operators and manufacturers would be fools not to push the market ever younger - until we're issuing our kids with a phone before they've learnt how to talk on it. ®