The most highly anticipated meteor shower of the year, the Perseids, are due to start their usually prolific streak through the sky tomorrow night and run until Monday.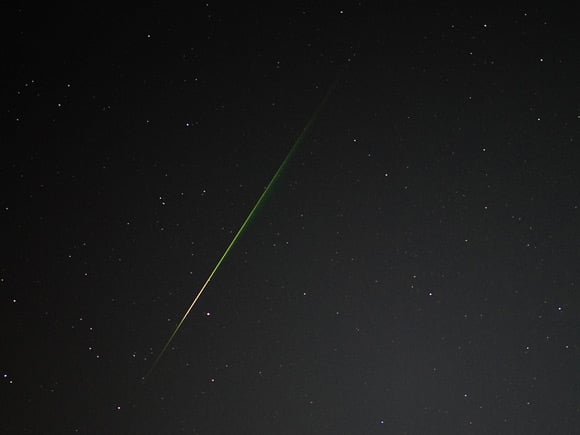 Perseid meteor captured by Bill Pinnell back in 2009.
The Perseids originate from the debris trail left behind by the comet Swift Tuttle as it orbits the Sun every 133 years. Every year, the Earth collides with this stream of dust and rocks, causing the meteoroids to burn up in our atmosphere as meteors, or shooting stars.
Aside from occurring in what is generally the warmest month of the year for many, the Perseid meteor shower is a crowd-pleaser because at its peak, it can produce over 100 meteors an hour, ranging from faint flashes to bright fireballs.
The meteor shower take its name from the constellation Perseus, which is where its radiant, or apparent point of origin, lies. But they meteor can streak across any part of the night sky, and should be visible to the naked eye. The shower peaks on the evening of 12 August.
The Met Office's Meteorwatch site says conditions will be ideal this year as there will be little interference from the Moon, although cloud cover could obviously still ruin the show. ®