Netflix dares UK freetards: Watch new Breaking Bad NOW or torrent it?
Will Brit addicts cough up fiver to watch it or pirate it anyway?
Video-on-demand service Netflix will give viewers on both sides of the Atlantic near instant access to one of the most anticipated TV drama climaxes: the final episodes of Breaking Bad.
Streaming the brand new, hotly awaited programmes to UK fans within hours of their premiere in America is seen as an industry first and a clear move to tackle copyright piracy.
British Netflix subscribers can already watch episode nine of series five of Breaking Bad, an instalment that aired just last night on the AMC cable network in the States.
Sony Pictures produces the show and licenses it; Netflix has acquired the right to all eight remaining episodes of the final series, and is making them available globally within hours of the US cable premiere within the usual monthly subscription - which, here, is £5.99 a month.
The long-time Reg favourite made its debut in 2008 but was shunned by the UK's broadcasters in favour of aspirational costume dramas such as Mad Men, where the period furniture is arguably the star. Even self-consciously "edgy" Channels 4 and 5 declined to show Breaking Bad free-to-air. The dark humour was relegated to cable channel FX, but became a word-of-mouth hit via DVD box sets.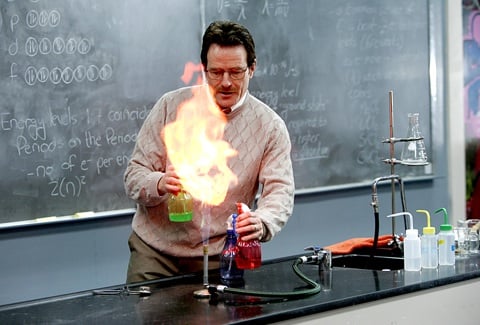 Walter White ... remember when the chemistry-teacher-turned-meth-maker had hair?
Typically US shows take months to reach legit internet streaming services - and the long release window between broadcast and online availability fuels the download of unlicensed copies, typically from a torrent or other file-sharing network. Netflix has reduced that window to about 12 hours - an industry first for such a widely anticipated show - a welcome bit of enlightenment from the TV industry and an interesting experiment in content strategy.
So is it working?
Up to a point, perhaps. At the time of writing the first instalment of series 5b has about 30,000 seeders on the Canadian torrent tracker Isohunt. It's too soon to tell whether Netflix availability has an impact on infringing downloads.
For fans, it's over here. ®