Review Tech offerings are rarely "good" to me, merely "less awful than others." In this case, however, I'll be looking at the complete package of Intel networking's efforts - the hardware, software and ongoing support - and might even attribute that word to its efforts. This isn't to say that everything in the Intel networking universe is awesome - I've certainly encountered some weird stuff over the years with its cards. In the majority of cases, however, the answers were to be found on Intel's own support website rather than as esoteric knowledge of the sysadmin mafiosi.
Intel's networking folks serve as stark contrast to my experiences with Nvidia's networking components. There is a special hell reserved for telemarketers and whoever designed the nForce NIC/forcedeth driver combo. I consider it a professional failing as a writer that I cannot create a sufficiently vitriolic phrase to encompass the depth of my discontent with that product. I simply lack the words.
But when it comes to Intel, not only were workarounds or potential fixes posted, but fairly upfront explanations as to why the bad thing was happening were generally posted as well.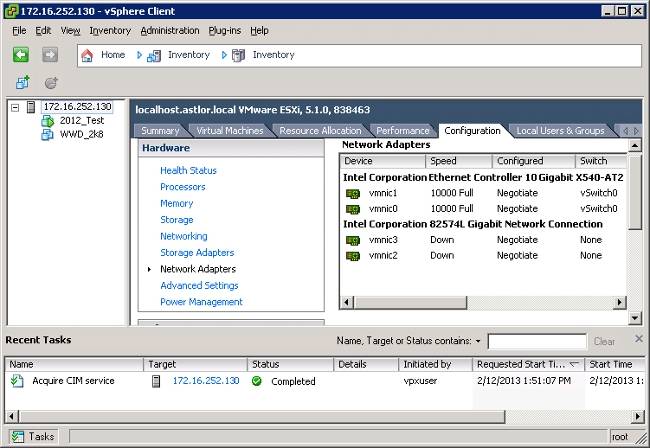 Intel in VMware (click to enlarge)
If the fix needed to come from Intel's end, you stood a good chance of getting its networking guys to issue a fix. At the very least, it seemed willing to work with the open source community to make sure that – if we wanted to – we could build a fix on our own.
The end result was hardware that would "just work". When it came to some of the older Gig-E NICs, I would be lying if I said that Intel's offering delivered the highest speed or the lowest latency. Other vendors offered cards with more features, more offloading, and ultimately better performance... if you had everything set up just right.
But those setups were fragile, and they certainly weren't something I was prepared to use in deployments where I knew that the company would end up repurposing that server for some other task down the line. Many a Windows-based database server has ended up a VMware host in the past few years. For me, network card compatibility has proved the number one issue with those conversions.
The old and the new
While I've got a lab full of Intel 1Gbit cards that seem to work in everything, the truth of the matter is most of this stuff is old. Half my inventory consists of Pro/1000 cards that have been in service for over a decade. Until very recently my only 10GbE Intel cards were a pair of XF SR Dual Port Server Adapters, and those are from 2007.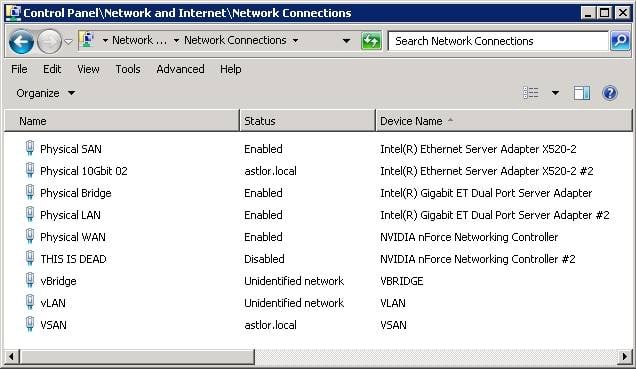 As luck would have it, Intel was convinced to part with some newer cards for testing. I have a pair of X520-DA2s two I250-T4s as well as a pair of X540-T2s. In essence, I have managed to assemble "the evolution of Intel Ethernet networking" for the past decade or so.
Similar topics