This article is more than 1 year old
Skyera unveils rival-crushing 21PB-a-rack flash monster
$1.99/GB, unequalled rack flash density. If it's real, it's a game-changer
The ex-SandForce flash controller guys turned all-flash-array-startup guys from Skyera are bringing another flashy product to market. And if the firm's claims are true, skyEagle could be a game-changer in the flash array world.
The upcoming product, due to be unveiled today, will redefine how much flash you can cram on the shelf, with 500TB in 1U and a whopping 21 petabytes in a rack, say its makers.
The skyEagle will land for the first time in a product and technology demonstration at the Flash Memory Summit at Santa Clara on 13 to 15 August.
Skyera also claims that the skyEagle's capacity costs $1.99/GB, less than that of many disk drive arrays, and a dollar less than previous product skyHawk's $2.99/GB.
The product announcement comes hot on the heels of skyHawk the team's latest bad-ass flash array, with its 44TB in a 1U enclosure.
Forty-two skyHawks in a rack gets you 1.95PB. Forty-two skyEagles in a rack gets you 21 petabytes – meaning it has increased storage density elevenfold over skyHawk. That product has 24 DIMM-like modules of 19nm or 20nm NAND providing 1TB or 2TB of capacity each.
How do we get from 44TB in a 1U half-depth enclosure to 500TB in a 1U full depth case? It's by using 88 modules instead of 24, where the modules are up to 6TB in capacity. That gets us to 528TB, with 28TB used for over-provisioning.
We understand major announcements are coming from significant flash chip vendors to make this possible.
The new product is designed for mission-critical computing and has active/active controllers for high-availability and fault-tolerance, hot-swap fans, etc, synchronous/asynchronous replication, and converged networks and protocols. Like skyHawk, skyEagle has deduplication and compression. The capacity figures above are raw and the effective capacity once dedupe and compression are applied could be five times greater, yielding a $0.49/GB cost – your mileage may vary of course.
Skyera's system hardware design and software functionality extends the endurance of the flash used by 100 times according to Skyera CEO Rado Danilak.
Speeds and feeds
The skyEagle array has 16 interchangeable 16Gbit/s Fibre Channel and 10GbitE ports, supporting a mix of FIbre Channel and iSCSI block access. Optionally there can be 96 lanes of PCIe connectivity, and both NFS and SMB file access protocols are supported – unified is as unified does.
It is also easy to install, Skyera saying it takes less than 10 minutes to set up. The drives are delivered in a formatted state, unlike those of their rivals, according to CEO Rado Danilak.
With a newer controller, the skyEagle delivers up to 20GB/sec and 5 million IOPS, 10 times more IOPS than skyHawk, and a theoretical 210 million IOPS from a rackful of skyEagles.
It is about a year since skyHawk first appeared. Skyera COO Frankie Roohparvar was understandably cock-a-hoop over the coming product: "We felt that our only competition was us, and now we have disrupted ourselves not by a factor of 2 over 18 months in accordance with Moore's law, but by over 10 times the performance and capacity in just 12 months."
The actual flash chips are described as 1Y/1N, meaning a less than 19nm lithography cell size, but probably no smaller than 15nm, given the somewhat vague meaning of 1Y/1N. Micron is currently sampling 16nm NAND.
Competition, capacity and cost
We think a main competitive parameter will be storage density. Skyera suggests it can take a 500TB (half petabyte) triple rack SSD-based array and replace it with a 1U enclosure – a pretty extreme comparison.
SolidFire's latest SF9010 offers 9.6TB of raw capacity in 1U using 10 Samsung 960GB SSDs. That would be 403.2TB in a full rack, less than the 500TB Skyera is putting in a 1U case. Skyera is offering 52 times greater storage density than SolidFire. Is this for real?
Pure Storage's FA-400 all-flash array offers up to 23TB in 4U according to its data sheet. That implies ten could fit in a rack and supply 230TB of raw capacity; less than half of what Skyera stuffs into a 1U skyEagle enclosure and a 91.3 times density advantage for Skyera.
Nimbus Data's E-Class offers 440TB in a rack. Same story; Skyera crucifies it on the storage density front.
A NetApp FAS6290 array can provide up to 5.76PB of raw capacity using 1,440 4TB drives and a pair of controllers, in a 12U space. The drives are housed in 4U enclosures holding 48 drives each; we need 30 of them, meaning 132 rack units in total; just over three racks. The skyEagle would offer roughly 3.6 times more capacity in a third of the space; a nearly elevenfold increase in storage density over NetApp if our arithmetic is correct.
Back in August last year Nimbus Data provided some cost comparisons. Its E-Class cost around $8/GB whereas SolidFire, TMS (now owned by IBM), and Violin cost about $15/GB. Pure Storage then cost $20/GB. Contrast that to the skyEagle cost of $1.99/GB ($0.49 after dedupe and compression) and Skyera looks set on crucifying its all-flash array competition on cost as well as capacity.
A cost/GB over three years for 55TB of NetApp FAS2040 disk storage is $2.29. Skyera's skyEagle box has that beat on cost as well.
Will Skyera deliver?
Skyera is funded to the tune of $51.6m by Dell Ventures, WD Ventures and, Danilak says, more than two first tier NAND flash vendors. That suggests companies like Micron and Samsung have dollar-backed faith in Danilak and his Skyera people and technology. Skyera is clearly using cutting edge flash lithography chips in skyEagle, meaning flash suppliers are working closely with the company.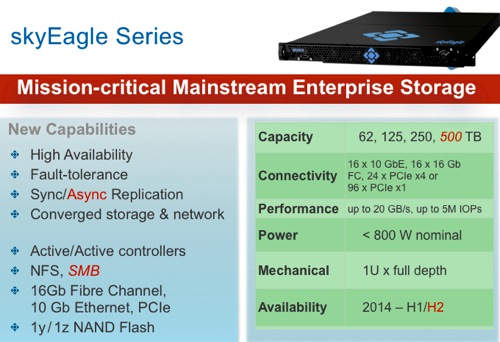 The skyEagle box will be pored over at the Flash Memory Summit as attendees ask the same three questions over and over: Is it for real? How is it done? Can Skyera deliver real product?
If Skyera delivers on the skyEagle product, the scale of its disruptive effect in flash capacity and cost terms will be, well, you supply the adjective. Choose from significant, through sensational to nuclear. As Danilak says, it won't be a case of "Why have a flash array?" but "Why not have a flash array?"
The product has a 2-phased delivery – GA1 in the first half of 2014 will see 62TB, 125TB and 250TB configurations, the full roster of network connectivity, high-availability and fault-tolerance with active/active controllers, sync replication and NFS. GA2 in the second half of 2014 will add the 500TB configuration, asynchronous replication, and SMB support.
We are a good few months away from availability, and competitors may well mutter vapourware in response to this early announcement and product demonstration. Behind the scenes though they'll be thinking using SSDs in all-flash arrays could be wrong.
DIMM-like flash cards are the way to go but that means they have to provide the flash-management functions currently provided by the SSD controllers. Cue hiring more firmware engineers and flash management designers. ®