Updated Microsoft's Outlook, SkyDrive, and People technologies are experiencing problems, making it difficult for some people to access the cloud services.
The issues began on Wednesday morning and affected Microsoft's hosted storage, email and contact services. Its Azure cloud coincidentally reported problems for SQL databases in the North Central US data center region.
"Microsoft is investigating an issue affecting a small number of customers' access to some Outlook.com and SkyDrive experiences and we are working to restore full access to the services as quickly as possible. For the latest information, we encourage people to visit the status page," Microsoft said in a statement given to ZDNet The Register.
Here at Vulture West we have had problems accessing the SkyDrive service ourselves, but have been able to log into Outlook. At the time of writing no information was available on the scale of the outage.
In typical Redmond fashion, information on the nature of the faults was scant, with Redmond saying "services such as Hotmail, Messenger, and SkyDrive are experiencing technical difficulties. We appreciate your patient as work on the problem."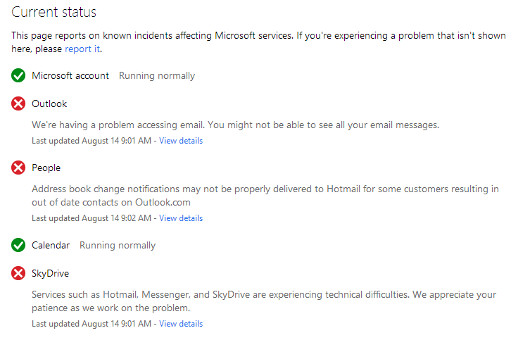 We've pinged Microsoft for more information on the problems and will update this story as and when the company gets back to us. We imagine Redmond is hoping this won't turn into another Blue Sky of Death. ®
Update:
Both SkyDrive and People have been brought back online, but Outlook is still having problems, according to updates made to Microsoft's "service status" page.
However, anyone keen to find out information on why the faults occurred will come away dissatisfied, as the updates say "a problem was recently resolved," without giving further information.
In response to multiple questions from The Register about the precise nature of the problems that befell the service, a Microsoft spokeswoman said via email: "We don't have anyone available to chat about this. You should refer back to the dashboard for the latest updates. Thanks."
The SQL Databases for Windows Azure in the North Central US region service has also been brought back online, according to a separate status page.
"The mitigation steps have been successfully executed and validated. Full functionality has been restored in the affected North Central US sub-region. We apologize for any inconvenience this has caused our customers," Microsoft wrote.
Requests by The Register to get on the phone with someone from Microsoft today or tomorrow to find out what took the service down were rebuffed. A Microsoft spokesperson told us Redmond does not "have anyone available" to give details on the fault.
Update 2:
After briefly struggling back online, SkyDrive is having more problems.
In an update posted to the service status dashboard by Microsoft at 2:22pm Pacific Time, the company said: "Users may experience delays in receiving emails with links to files shared with them and other SkyDrive notifications."
In an additional statement to The Register, the company gave further information on how the recovery process is going.
"Outlook.com experienced an incident that caused some users not to be able to access their account or share their SkyDrive files. We have restored web access for all users but some people might still see issues with their mobile devices. We are working to restore full mobile access as quickly as possible."