This article is more than 1 year old
Nimbus fattens up Gemini twins with smaller flash chips
Flash arrays go faster too, leapfrog Violin in flash capacity stakes
Nimbus Data has increased the capacity of its Gemini flash arrays by stuffing more smaller flash chips in them; we're talking 48TB in 2U, just pipping Violin's new 6264 array with its 64TiB in 3U.
That 64TiB is equivalent to 70.5TB, meaning that Nimbus's new Gemini averages out at 24T/U versus 23.43TB/U for Violin Memory – almost identical.
Nimbus has essentially upgraded the MLC flash chips in its Gemini array to smaller 1X-class ones, meaning somewhere between 19nm and 10nm. (Violin has also moved to 1X NAND, 19nm chips form Toshiba, with its 6264.)
This type of NAND is slower and has a shorter working life than the previous 2X-class chips (29nm to 20nm), but Nimbus says its HALO operating system and the flash module controllers counteract this with three initiatives:
Each flash drive has a hardware DSP (Digital Signal Processor) varies the electrical current based on the age of the flash, minimising flash wear,
Random small-block writes are modified to become sequential large-block writes, reducing the number of writes to the flash,
Cell-level, rather than chip-level, wear-levelling algorithms are used "that detect variations in flash endurance and adapt write patterns accordingly, eliminating hot-spots."
Nimbus provides warranties up to ten years in length, and claims its technology gets 1X NAND endurance up to 2X NAND levels.
It also says its deduplication and compression increase the effective capacity up to 373TB and, with thin provisioning, the cost can be as low as $0.78/TB. Nimbus claims performance over the previous 3rd generation Gemini array has increased up to 2 million 4K read IOPS and a million write IOPS.
There are two new Geminis: the F400 and F600, both featuring dual high-availability controllers and redundant components. They have the same capacity but vary on host connectivity. The F400 has 1Gbit Ethernet, 10Gbit Ethernet and 16Gbit/s Fibre Channel, while the F600 has 40GbitE as well as 10GbitE and 1GbitE, and 56Gb FDR, 40Gbit QDR and 20Gbit DDR InfiniBand support with SRP and iPoIB protocols available.
Nimbus supplies a schematic chart comparing its new Geminis to competing systems: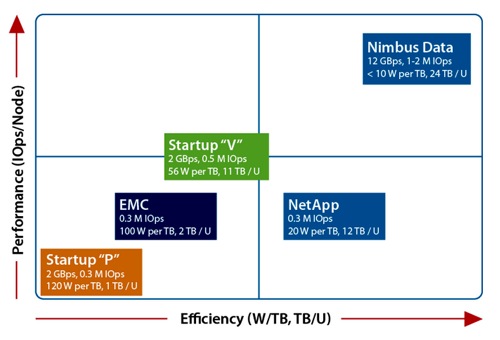 Nimbus 4th generation Gemini array competition.
We can have fun wondering if startup "P" is Pure Storage and startup "V" is Violin Memory.
Nimbus claims its "Gemini is the fastest available MLC-based all-flash system, delivering the industry's highest IOPS (4 KB block size), highest throughput (256 KB block size), and lowest latency (< 0.05 ms).
Get a Gemini data sheet here (PDF).
The Gemini F400 and F600 will be generally available in the fourth quarter of this year, with the F400 starting under $60,000 and the F600 at less than $80,000. ®