The Register expects EMC to launch VNX2 very soon, possibly as soon as a few weeks from now.
We caught wind of the changes when we noticed VNX2 was mentioned in forthcoming seminars and where it was described as "delivering the next evolution in disaster recovery technology".
The VNX2 is EMC's newest hybrid storage platform. The company says it will lower costs with its advanced caching and tiering technology, and improve disaster recovery by combining VNX and VPLEX with VMware's vSphere cloud virtualisation operating system.
We know the VNX7500 replacement has up to 16 cores, rather than the six of the VNX7500.
At the last EMC World conference, El Reg heard that VNX2 will deliver 1 million IOPS, instead of the 200,000 from the current VNX. VNX2 has up to 28GB/sec bandwidth compared to the current 12GB/sec. EMC also promised an increase from the current 4PB maximum capacity up to 16PB.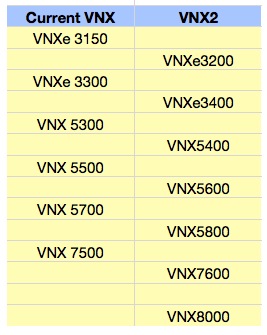 VNX2 model names
El Reg deduces from LinkedIn and here that the new VNX models are the VNX5400, VNX5600, VNX5800, VNX7600 and VNX8000. These would logically replace the VNX5300, VNX5500, VNX5700 and VNX7500 respectively.
The VNXe3200 and VNXe3400 will replace the VNXe3150 and VNXe3300.
The VNX2 could feature block-level deduplication added to the existing file-level dedupe, taking advantage of flash and the extra processing cores.
The launch themes seem centred around increased performance and capacity with new controller processors and flash being used to boost speed. General availability will commence in September, El Reg understands, which means an announcement in the next few weeks. ®