NASA has revealed that the Kepler spacecraft, which has been busily hunting for exoplanets for over four years, is no longer capable of carrying out its primary mission – but there's plenty of life left in the ol' girl yet, and plenty of planet-hunting data left to be analyzed.
"What we're saying is done today is our precision-pointed mission," Charles Sobeck of NASA's Ames Research Center said during a Thursday press conference.
That precision-pointed mission required at least three of Kepler's four spacecraft-aiming reaction wheels to be functional. Unfortunately, one wheel failed in July 2012, and a second went down this May.
It's not that those two compromised wheels don't spin at all. Rather, they simply don't have the ability to point the spacecraft as precisely as they previously could, or remain spinning long enough before they exhibit damaging friction.
Not that the Kepler team didn't try its damnedest to recover that ability. "I want to explicitly recognize the effort – the extraordinary effort – by the Kepler project to try and recover Kepler's three-wheel operation," said NASA's astrophysics director Paul Hertz. "I believe they've left no stone unturned in their due-diligence study."
The final verdict of Kepler's suitability for precision-pointing science came as a result of tests using the spacecraft's two good wheels and one compromised wheel that began last Thursday. "The test ran overnight," Sobeck said, "and the wheel failed late Thursday evening Pacific Time." After that failure, the team huddled over the data and determined that Kepler's days of three-wheel, precision control were behind it.
"We're not going to be able to point the spacecraft at the milliarcsecond level that we've grown accustomed to with good reaction wheels," said Sobeck. "Our pointing will be less than that."
Still, that lack of precision pointing doesn't render Kepler useless. It can now be pointed within 10 arcseconds of error, or 1/360 of a degree, a level of precision that is perfectly acceptable for other science tasks. The question now is what Kepler's next mission – or missions – will be.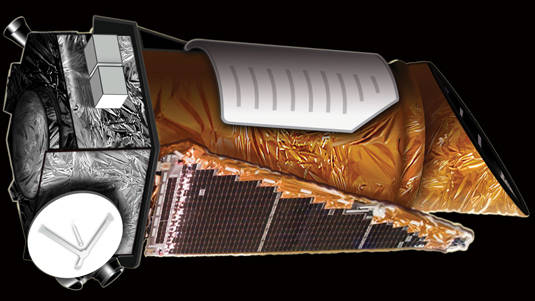 Its primary planet-hunting mission now over, NASA's Kepler is looking for a new job (click to enlarge)
Those tasks are as yet undecided, and before determining what science the spacecraft can now accomplish, the Kepler team must first fully study its observatory capabilities in two-wheel operation. While those parameters are being discovered, the team will conduct a parallel study to explore what kind of science can be done with Kepler's more limited abilities, and also, as Hertz explained, "whether that science is compelling enough to justify continued investment in Kepler operations."
Not that Kepler is bleeding NASA dry, even in these days of crimped budgets: the entire Kepler effort is budgeted for a mere $18m during fiscal 2013.
But even in the unlikely event that NASA's call to the scientific community for ideas as to how Kepler may next be used turns up no science compelling enough to justify investment, there's still the matter of sifting through the mountains of data recovered from the spacecraft, which were obtained during its two most recent years of planet hunting.
"This is not the last you'll hear of Kepler," Hertz said. "There's a huge amount of data collected that we'll continue to analyze."
As explained by Kepler's principal investigator William Borucki, those two final years of data are critical in the search for Earth-like planets orbiting Sun-like stars. The analysis of the first two years of data, he said, have turned up 3,500 planetary candidates, "several hundred" of them being Earth-sized. In addition, he expects "hundreds, maybe thousands" of new exoplanets to be discovered in the remaining two years of as-yet-unexamined data, including that elusive Earth II.
The reason for Borucki's optimism about finding a twin to Earth is that four full years of data will provide the necessary number of transits – the exoplanets traversing their stars – required to accurately detect and characterize small planets within the habitable zones of their star systems. "We need three or four transits to detect these small planets," he said, noting that if it takes Earth a year to transit our Sun, our twin would provide four transits in four years.
"We expect ... the most exciting discoveries to come in the next few years, as we search through all this data," Borucki said, with those discoveries revealing themselves not only because of those extra transits, but also because the team is improving its data-analysis pipeline.
Borucki bristled when a questioner characterized Thursday's announcement as being the end of the Kepler mission. "It is not the end of the Kepler mission," he said. "That is a terrible misstatement. The mission is composed of two things: you make the observations, you analyze the observations. The mission is done when you finish your analysis and you have a result."
Even with Thursday's announcement of Kepler's repurposing, and with only two years of data having yet been analyzed, the mission can be considered a rousing success. Based on data acquired by Kepler, for example, astroboffins have estimated that there are 17 billion Earth-sized planets in just our own galaxy.
Kepler has identified a treasure trove of those exoplanets since its launch on March 6, 2009. The range of the planetary discoveries has been broad, from the ginormous to the tiny, including some that are orbiting red dwarf stars in those systems' "not too hot, not too cold" Goldilocks zone, and one orbiting two suns à la Star Wars' Tatooine.
And if Borucki is correct, the best is yet to come. In his opinion, the discoveries hidden in that unexamined Kepler data, along with data acquired by follow-on missions, will be of monumental importance to the human race.
"The mission is important. It's critically important to mankind's future. We are looking at the idea of exploring our galaxy one step at a time," he said.
"If we had found there were very few Earths, our exploration of the galaxy might be very, very different. We might not choose to explore it. So it's a critical step in mankind's understanding of his place in the galaxy, and what life might be out there." ®
Similar topics