Let's face it: Google Glass has an image problem. Even people who like the idea are forced to admit that wearing Sergey Brin's high-tech specs in public makes you look like a dork. But there may yet be an antidote to that.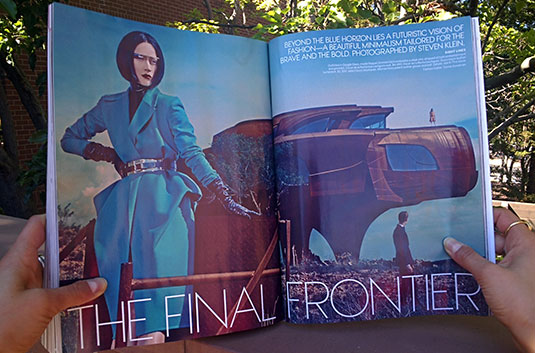 See? Those Google Glass specs really are stylish, after all
Enter the September 2013 issue of long-running US fashion magazine Vogue, which features a twelve-page spread of heavily stylized photos of models wearing futuristic fashions, each of their faces framed by a Google Glass headset.
From what we've seen of the insert so far, the models are all posed on what look like sets from a science fiction movie, with implausible-looking architecture looming in the background.
"THE FINAL FRONTIER," proclaims the opening spread in all caps. "Beyond the blue horizon likes a futuristic vision of fashion – a beautiful minimalism tailored for the brave and the bold."
Below that, in smaller print, is the typical blurb explaining what we're looking at on these two pages. In a nutshell: a model wearing a $4,490 coat by Oscar de la Renta, a $2,300 black leather turtleneck by Gucci (yes, leather), and matching patent leather gloves and belt by Michael Kors (presumably so cheap that the prices are not worth mentioning).
"Outfitted in Google Glass," the breathless copy explains, "model Raquel Zimmermann embodies a sleek chic stripped of both embellishment and gimmick."
Well almost, anyway. Because to most regular people, the fact that Ms. Zimmermann is casting us a sultry look from under the frames of a Glass headset – just like everybody else in the shoot – is one helluva gimmick.
It's also not the image that most of us have come to associate with the privacy-shredding specs. No, that image would be one posted by Rackspace hype-man Robert Scoble to his Google+ page, in which he stands, mouth agape, naked and soaking wet, as he demos Glass from the shower. (If you haven't seen it, click on the link at your peril.)
But fashion is a funny thing. So much of it has less to do with what something looks like than with what the fashion industry tells us is fashionable at any given time. So, for September 2013, at least, Google Glass is apparently haute couture – or that's what Vogue would have us believe, anyway.
Vogue? Yep. El Reg asked Google Glass spokesman Chris Daly whether this was some kind of surreptitious advertising on Google's part, but he assured us it was all the magazine's doing. "It was not commissioned," he told us. "It is strictly editorial." ®
Bootnote
Lest you brush off Vogue as a magazine that knows more about tailoring than it does about tech, we're told the September issue also features a 3,000-word profile and interview with Yahoo! CEO Marissa Mayer.