This article is more than 1 year old
Portuguese chicken invades Spanish airspace
Plucky stratocockerel crash-lands in bewildered old boy's fig tree
A plucky Portuguese cockerel has added extra weight to the theory that model aircraft and High Altitude Ballooning payloads are magnetically drawn to trees by soaring to a heady 33,252m before crash landing in a bewildered Spanish villager's fig tree.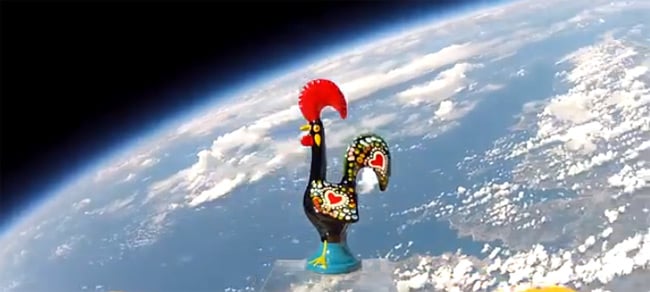 The Galo de Barcelos (Rooster of Barcelos) was lifted aloft by helium balloon a few weeks back from the very town in north-west Portugal from which its name is derived. Legend has it that a visiting Galician was wrongly accused of stealing silver and, when condemned to hang, insisted that a roast chicken would crow at the moment the noose was slipped round his neck.
The bird obligingly declared the man's innocence, securing his release, and a representation of the rooster subsequently became a Portuguese national symbol.
Appropriately, the Galo de Barcelos ended its flight in the Galician village of Vivenzo, much to the surprise of local old boy José Soalleiro, as this entertaining vid of the flight shows:
There's a Spanish TV news piece on the flight here, which includes a quick snippet of our own Paper Aircraft Released Into Space (PARIS) intrepid Playmonaut. ®