Dell aligns Foglight management tools with VMware stack
Ready for the impending ESXi and vSphere 5.5
---
Dell bought a slew of software companies to build out its infrastructure and cloud management tools, and has made no secret of its aspirations in the software arena. And that's why Dell is getting out in front of the impending launch of VMware's ESXi 5.5 hypervisor and related vSphere 5.5 management extensions, widely expected to launch next week, with support for these and other VMware tools ahead of the pack.
The IT giant, which is trying to go private in part to ramp up that software business outside of the judging eyes of Wall Street, has trotted out updates to the programs it got thought its acquisition of Quest Software in July 2012 for $2.4bn, which gave it Quest, Vizioncore, and VKernel tools for managing servers, storage arrays, and switches.
This May, Dell rejiggered the brands on the various tools, slapping the Foglight brand on all of the tools while also boosting control of virtual desktop infrastructure and storage. Dell also sunsetted the vOptimizer capacity-management tool from Vizioncore (which did thin provisioning for storage underneath hypervisors) while at the same time promising that much of its functionality would be moved into a future Foglight 7.0 release.
With Tuesday's announcement, Dell is making good on that and other promises.
Foglight for Virtualization Standard Edition (formerly VKernel vOPS Standard) is aimed at small and midrange businesses with between 10 and 1,000 virtual machines under management. Foglight for Virtualization Enterprise Edition (which came from Quest) is aimed at midrange and enterprise shops with between 1,000 and 50,000 VMs under management. This latter product has add-ons for hooking into and control freaking Microsoft's Active Directory and Exchange, as well as a module to manage storage, including the thin provisioning that was part of Vizioncore's tools.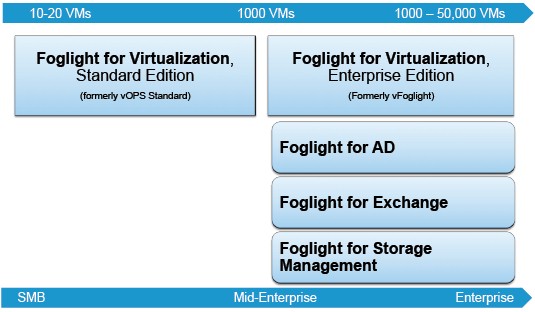 How the different Foglight tools stack up – just to help you keep them straight
With Foglight for Storage Management 3.0, support for Dell's own Compellent disk arrays has been beefed up, says John Maxwell, vice president of product management for storage networking and virtualization at Dell, and support for the company's also-acquired EqualLogic arrays has been added. So has support for EMC's VMAX arrays, despite the falling-out that Dell and EMC had a few years back over storage.
You can't ignore EMC if you want to sell storage management tools in the data center – it's that simple.
The updated Foglight storage-management module also a sophisticated pool-level analysis tool that looks at raw capacity and thin provisioning over-commitments and shows where you are going to run out of space before you do.
For example, an array with 10.4TB of raw capacity might have an available raw capacity of only 6.9TB, but after thin provisioning, can deliver 17.6TB of allocated capacity to applications. However, if you drill down, in this case, there is only actually 1.2TB of raw capacity.
"Sometimes, people go a little crazy with the thin provisioning and just run out of space," says Maxwell. This will alert them to the condition before they do this. The Foglight storage tool also has a new performance analyzer that can drill down from individual VMs to sub-array levels in the storage to try to see where bottlenecks are cropping up.
The flagship Foglight for Virtualization Enterprise Edition is revved to the 7.0 level, as promised earlier this year, and like the prior releases, it can sniff through the server clusters and look at servers, VMs, and storage and do rightsizing of capacities for VMs as well as de-allocating turned off, abandoned, or zombie VM inages.
Maxwell says that the 7.0 release supports VMware's ESXi hypervisor and vSphere feature add-ons from the 4.0 through the 5.1 level, and will be ready to rock with the ESXi/vSphere 5.5 stack whenever VMware gets it into the field. The Foglight virty control freak can now hook into VMware's vCloud Director and monitor managed pools of resources, viewed by organization or virtual data center, too.
Dell has done a lot of work, says Maxwell, to improve the performance of servers running VDI brokers, which originally debuted in the Foglight for Virtualization Enterprise Edition 6.8 release earlier this year. The 7.0 release has deeper hooks for VMware's Horizon View broker, with end-to-end performance drill-down at the user and session levels.
Maxwell says the combination of the Foglight virtualization and storage tools can be powerful. Just by firing up the virtualization tool, customers might be able to save enough CPU and memory without adversely affecting performance to cram ten VMs on a server instead of eight. And on the storage side, "a lot of users are shocked because they don't realize how over-allocated they are," says Maxwell.
The tool now allows system admins to add in their cost of CPU, memory, and storage capacity, and then do a before-and-after analysis once they clean up their VM configurations to show how much money the efficient running of the cloudy infrastructure has not wasted. (Or how much capacity is now available to be allocated to other work, depending on how you want to look at it.)
The Foglight for Virtualization Standard Edition is also boosted to a 7.0 release. The big new feature here is that it can not only do capacity planning based on existing hypervisors in the cluster, but now you can plug in the server capacity you will add in the future and it can tell you, based on the configuration of the machines, if you will have enough capacity based on VM usage current trends. The Standard Edition has a library of Dell PowerEdge servers you can click as future iron; if you use non-Dell machines, you have to enter in the boxes and their configuration by hand, but the capacity planning will still work.
The entry Foglight management tool has automation features to automagically adjust virtual-machine disk sizes up and down based on how much storage they are actually using as they run, and also has a power-minimization feature that does the math on your running workloads and figures out the minimum number of server hosts required to run virtual workloads safely. It also shows the power savings you get if you take the advice and shut the machines down.
Foglight for Virtualization Enterprise Edition 7.0 costs $799 per server socket under management, and Standard Edition 7.0 costs $399 per socket. The Foglight for Storage Management 3.0 add-on costs $499 per socket. All three will be available on August 31. ®
Similar topics
Narrower topics