New BT chief gets keys to copper-encrusted door next month
Poised to replace Lord Livingston
---
BT's incoming chief exec Gavin Patterson will formally take the reins on 10 September, the telecoms giant confirmed to the City this morning.
He will replace current boss Ian Livingston, who surprisingly resigned from his job in June after Prime Minister David Cameron poached him for a front-bench trade and investment role in the House of Lords.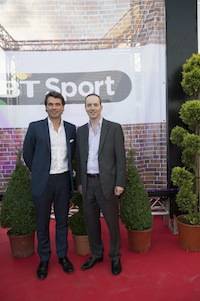 Patterson (pictured left), Livingston (right).
Image: BT
BT board members will formally hand the CEO position to Patterson on 10 September when Livingston will yield his directorship, pack up his desk and head to Westminster.
Patterson, 45, was announced as Livingston's successor in June. Since 2008, he has run BT Retail and served on the board of directors. He joined the company in 2004 as a group managing director of BT Retail's consumer wing.
Previously, Patterson, who has a chemical engineering degree from Cambridge, worked at Telewest Communications for five years.
He began his career at Procter & Gamble in 1990 where he held a number of marketing roles. ®