Microsoft announces execution date for failed QR code-killer
Redmond admits defeat in war that never was
Microsoft Tag, Redmond's alternative to the QR Code which never took off, is scheduled to die on 19 August, 2015, following Old Yeller out behind the cowshed.
Launched just over three years ago, the Microsoft Tag is a proprietary version of a QR Code with some additional functionality and better colours. As QR Codes resolutely fail to go mainstream, however, the MS Tag will be quietly put down following the two-year notice of execution.
Microsoft Smart Tags are similar to QR codes. Instead of providing a URL, they link though the Redmond cloud, providing analytics and the ability to change the final destination – at least until that cloud gets switched off in August 2015.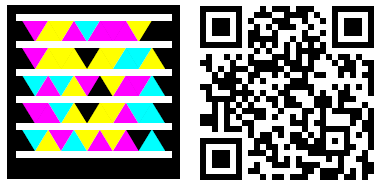 The Register in both tags; the one on the left soon to be a collector's item
The Tags shouldn't just stop working overnight, though, as QR code generation site ScanLife will be offering to continue referrals. ScanLife offers a similarly moderated service using the marginally-more-popular QR code standard, and has tools ready to help customers move on from Redmond's redundant tech.
The decision to drop the Tags isn't hugely surprising - 18 months after the launch Microsoft admitted that its Smart Tags were little more than a curiosity and were unlikely to gain significant market share before all tagging moved to NFC, the radio technology which works so much better.
QR Codes do work, but never as smoothly as they should. Their adoption isn't helped by graphic designers who've placed them in the most comical of locations where scanning would be all but impossible, even if it were desirable.
NFC works so much better. The proximity technology isn't nearly as cheap as a printed label (even when printed an NFC tag will costs at least five cents) but the user experience is a great deal better - and the vast majority of smart phones have the requisite circuitry these days. ®