NSFL Sawbones at Canberra Hospital have published an illuminating, if eye-watering, account of how they extracted a 10cm fork from a septuagenarian's penis.
According to the report by doctors Krishanth Naidu, Maurice Mulcahy and Amanda Chung, published in the The International Journal of Surgery (PDF, images NSFW), "a 70-year-old man presented to the emergency department with macroscopic haematuria but no other urinary symptoms".
It continues: "Detailed history taking revealed he had self-inserted a 10cm steel dining fork into his urethra 12 hours prior, for autoerotic simulation."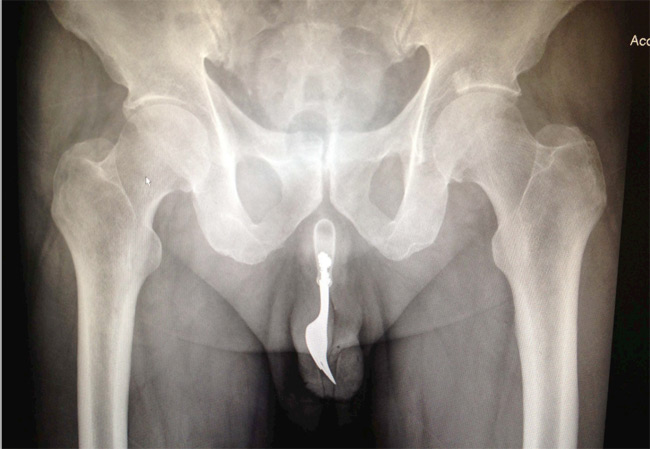 You can fork right off, mate ... the offending implement in the patient's chap
An X-ray revealed the object to be "within a non-perforated pendulous and bulbar urethra, with the handle oriented proximally". After contemplating the best extraction method, the docs opted for general anaesthesia and "forceps traction and copious lubrication", specifically "lignocaine gel and Rampley forceps".
"The patient voided well and went home post-procedure", they note, if you're still reading by this point.
The trio of cutlery-wranglers describe the penile urethral fork case as "a rarity", but cite previous examples of:
a wide array of self-inserted foreign bodies", including "needles, pencils, ball point pens, pen lids, garden wire, copper wire, speaker wire, safety pins, Allen keys), wire-like objects (telephone cables, rubber tubes, feeding tubes, straws, string), toothbrushes, household batteries, light bulbs, marbles, cotton tip swabs, plastic cups, thermometers, plants and vegetables (carrot, cucumber, beans, hay, bamboo sticks, grass leaves), parts of animals (leeches, squirrel tail, snakes, bones), toys, pieces of latex gloves, blue tack, Intrauterine Contraceptive Devices (IUCD), tampons, pessaries, powders (cocaine), fluids (glue, hot wax).
When dealing with a "rare urological emergency", the doctors advise: "Foreign body extraction is guided by its morphology and position, and can often be successfully achieved endoscopically. However, a more wholistic approach to management is crucial, which includes not only the prevention of infection, minimisation of further urethral injury, assessment and documentation of more sinister underlying injury, and monitoring of delayed complications; but also, thorough evaluation of motivation and psychosocial issues, which in itself requires attention and may prevent future episodes." ®