This article is more than 1 year old
Lenovo to ship all new PCs with Start Menu replacement
Old-school launcher included because YOU DEMANDED IT
You wanted the Start menu back in Windows 8.1. Microsoft listened ... and didn't give it to you. Now Lenovo says that if a Start Menu is what it will take to get you to start buying Windows 8 PCs, then by gum, a Start Menu you shall have.
By now, everyone should be aware that the Start icon that's coming to the Windows 8.1 desktop doesn't behave like the old Start Menu at all. It just an icon that, when clicked, takes you to the same old Start Screen that debuted in Windows 8 (with a few UI tweaks).
Lenovo has decided that's not nearly good enough. To sweeten the deal for its customers, the Chinese PC maker has partnered with San Diego, California–based startup SweetLabs to bundle its Pokki Start Menu replacement software with all new Lenovo Windows PCs.
Lenovo first approached SweetLabs after its cofounder and chief marketing officer Chester Ng gave a speech at an Intel Capital conference, Bloomberg reports. (Intel has been a major investor in SweetLabs, going back to 2011.) Ng says SweetLabs is currently in talks with other hardware makers that may follow Lenovo's lead.
True to form for Windows PC makers, however, there's a lot more to this move than just restoring a beloved feature, and Pokki is much more than just another Start Menu replacement (of which there are several).
SweetLabs describes Pokki as "software that makes the PC better by bringing a modern app experience to the desktop." When installed on a Windows 8 machine, it not only adds a familiar-looking Start Menu, but it also provides access to SweetLabs' own app store.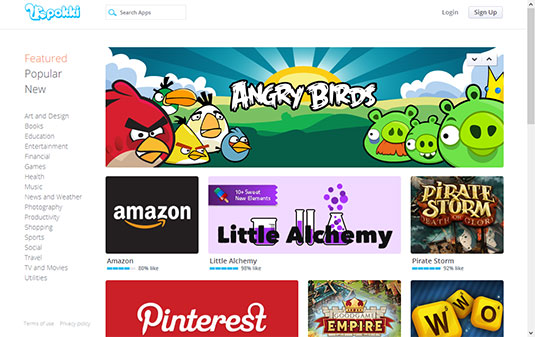 Come for the Start Menu, stay for the app store ... or so Lenovo and SweetLabs hope
The Pokki store contains most of the usual mobile-app suspects, including YouTube, Gmail, Facebook, Amazon, Angry Birds, and so on. Many of these are just encapsulated versions of the corresponding web sites, but instead of pulling them up using a browser bookmark, you can double-click the icon and get an app-like version in its own window.
The effect is a little perplexing on Windows 8, since this is pretty much exactly what Microsoft is offering with Windows Store apps – and escaping all of that is precisely why many people want a Start Menu replacement to begin with. The main differences between Pokki apps and Windows Store apps are that Pokki apps don't have to run full-screen and Pokki can also be installed on Windows 7 and Windows XP.
Already, Ng said, more than 3 million Windows 8 users have downloaded Pokki from SweetLabs' own site, and the average user opens it 10 times per day. (By comparison, one survey found that the average Windows 8 users opens a Windows Store app less than once per day.)
Pokki uninstalls easily enough, and its app store and related features are fairly unobtrusive if all you want is a Start Menu replacement. Worryingly, however, SweetLabs' only other product is an ad network called OpenCandy that targets "apps on the PC," so don't expect something for nothing from Pokki apps.
According to Ng, SweetLabs plans to share some of the income it gets from Pokki with PC vendors that preinstall the product. "We make the user experience better and help them make more money," he told Bloomberg.
Ng said Lenovo plans to begin rolling out PCs with Pokki preinstalled "in the next several weeks," beginning with English-speaking countries and continuing on to other regions later. Eventually, he said, the PC maker plans to ship Pokki with all of the PCs it sells globally. ®