EMC, you big tease! At last, the specs for million-IOPS VNX2
Small biz, or got petabytes to crunch? There's something for everyone
---
Getting tired of EMC's teaser campaign for its coming VNX refresh in September? Relief is at hand: slide decks, blogs and PDFs seen by El Reg's storage desk confirm that EMC's VNX2 is a 7-product line-up optimised for multi-core CPUs and flash with new operating software.
VNX arrays were getting slow because the software couldn't use multi-core CPUs effectively. So EMC has re-written parts of the code stack to fix that problem and customers will get a major boost in data access performance as a result. The range looks like this: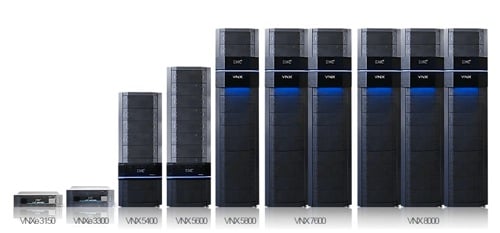 EMC's New VNX range
The individual models are:
VNXe3150 - SMB entry-level
VNXe3300 - SMB top
VNX5400 - main range entry
VNX5600 - midrange entry
VNX5800 - midrange mid-tier
VNX7600 - high-end mid-capacity
VNX8000 - high-end large-capacity
Capacity increases as you move up the range and so does performance, with new processors and increased core counts.
You can get VNXe 3150 and 300 config details here (PDF), with an overview of the vital stats looking like this: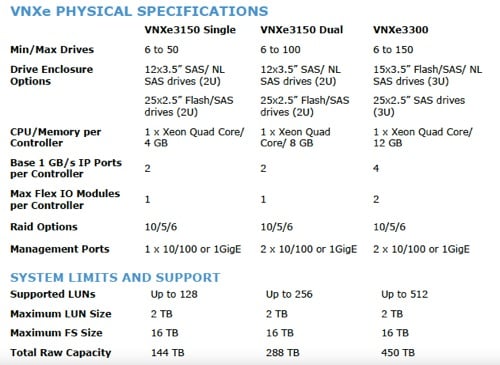 We understand a VNX5200 is coming and that effectively replaces the block-only VNX5100. The 5200, like all the other new VNXs, is a unified file and block system. It is limited to 125 drives but is similar to the 5400 in other respects. EMC is pricing the 5400 quite cheaply until the 5200 ships.
Next up is a slide with the new VNX range configuration details: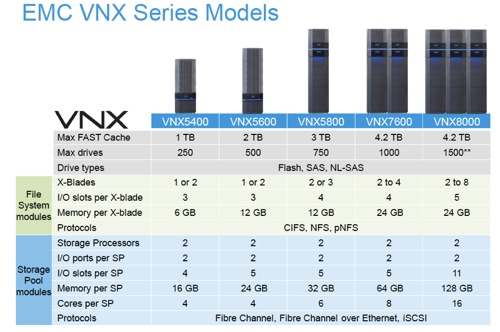 Click on pic for bigger, more readable version.
The asterisk by the VNX8000 drive count signifies it's limited to 1,000 drives for now, but that will increase in time to 1,500. This takes it up into VMAX territory. The VNX8000 is for customers that want that level of array capacity and performance but don't want to pay for VMAX resiliency.
We understand that new Disk Processor Enclosures (DPEs) replace the existing SPEs (Storage Processor Enclosures) as they are physically smaller due to the storage processors being located in the first disk tray and not separately.
The largest capacity drives supported are 3.5-inch 7,200rpm 3TB nearline SAS ones, and not 4TB drives, which is a pity.
This VNX generation has active/active storage processors for higher performance when accessing Classic LUNs (logical units or volumes of capacity), compared to the previous generation's active/passive scheme, which meant LUN access through the passive storage processor was slower than through the active one.
However, LUNs formed from pooled storage are still active/passive but will become active/active with a coming OE update release. There can be private or private LUNS within a pool and these are active/active.
The VNX controlling software is now called its Operating Environment (OE) and it, unlike the older Flare, can use multi-core CPUs better, with work being spread across the available cores and so increasing performance. EMC is marketing this as MCx, standing for "multi-core everything."
VNX use of 16 CPU cores
Caching algorithms have been updated to improve the use of SSDs to cache the most active data. Previously, with Flare, a 64kB block required three accesses before it was promoted to thecache. The updated scheme requires a single access. When the SSD cache is 80 per cent full it reverts to the 3-access requirement.
EMC sees fast SLC SSDs being used for FAST cache and slower eMLC SSDs being used to tier hot stored data, with lower access rate data placed on fast SAS drives and the last active data going to nearline SAS drives.
The VNX RAID scheme no longer needs permanently allocated hot spare drives, thanks to any unallocated drive being used as needed.
The FAST VP auto-tiering scheme moves from 1GB slices of data being moved to more granular 256MB slices; it's more efficient. You can upgrade any VNX to a larger model with data-in-place upgrades.
There are no changes to the X-Blades which handle NAS functions. But file operations should be faster because the storage processors handling the underlying block functions are faster. There is also no encryption of data at rest.
Finally deduplication, already available for file data, can now be applied to block data. It's a post-process scheme, with data being deduplicated after it has landed in the array. It is scheduled to run two times a day and up to four hours at a time, working on 8kB data blocks. It has to be enabled per-LUN. FAST Cache is deduplication-aware to save cache space
In general VNX is moving to only using 2.5-inch drives but that move will take another release or two to make it out into public.
The new VNX arrays should show a nice turn of speed compared to the existing range. El Reg's storage desk expects EMC to return to the benchmarking scene to show this off and trumpet how much faster VNX boxes are than NetApp's kit. ®