This article is more than 1 year old
Acorn's would-be ZX Spectrum killer, the Electron, is 30
The story of the BBC Micro Junior
Critical mass
Yet for all the reduction in speed, so great was the BBC Micro's lead over most of its rivals that the Electron could still shine. "If tested for speed using the usual benchmarks, the Electron runs about 30 to 40 per cent slower [than the BBC]," said Maude. "Arithmetical computations are the slowest but, since the BBC BASIC is so fast the Electron is still doing well."
That didn't stop him later grumbling that "the main program generally loads but then runs like an arthritic snail, about 2.0 to 4.3 times slower than it should".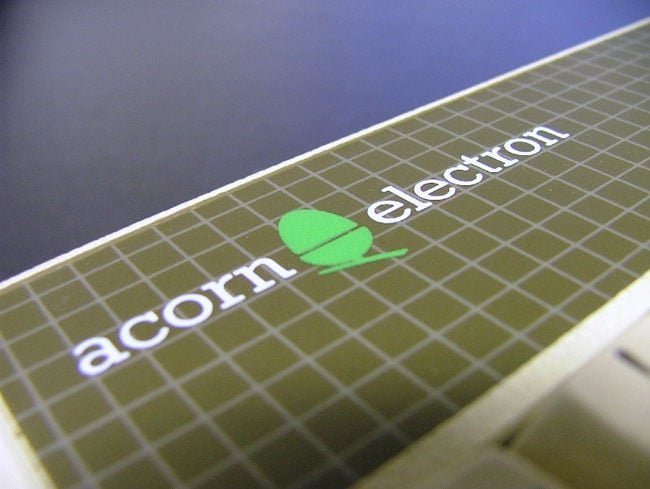 No BBC logo here
Source: Quagmire
Yet Personal Computing Today said that "compared with other machines - including the Commodore 64 - the speed is acceptable and the colour and resolution far superior". And Personal Computer News' Max Phillips reckoned that "relative to the competition, the Electron is delightfully quick".
But though the Electron itself may have been pleasingly fast, the same couldn't be said for Acorn's ability to get machines out into the shops.
Back in February 1983, Acorn's Chris Curry has revealed the Electron would be produced in Singapore. "One reason is that the duty on components in the UK is thoroughly unacceptable, notwithstanding the fact that overseas suppliers have to a certain extent adjusted their prices to take account of it," he said when asked why a British firm was not handling the micro.
Ramping up manufacture
"But the main reason we will be manufacturing the Electron overseas is that we wanted to apply some fairly radical production techniques. We find there is less resistance to change in countries like Hong Kong and Singapore. They go straight in with capital expenditure on new equipment: automated component insertion tools, bonding equipment and the like. British companies find this difficult to do and there wasn't anyone in the UK who was already set up for it.
"We would obviously prefer to be manufacturing in the UK but the first run at least will be in Singapore."
Curry concluded: "We will not do any advertising until we are completely confident that stocks are available. More than almost anyone else we have suffered in the past and problems of lack of product when the demand is high, and we're not going to let it happen again."
Acorn indicated early in September 1983, right after the Electron's launch, that it hoped to sell 100,000 units of the new computer by February 1984, though by now the manufacturing of the machine had been contracted out to Astec in Malaysia. Nonetheless, a spokesman said the firm was hoping to start UK production in six weeks' time. The manufacturer was rumoured to be AB Electronics in South Wales, and rumour became fact at the end of September when the partnership was formally confirmed.
"It is our intention to dominate the £200 price range with the electron in the same way as we have done in the £400 range with the BBC machine," a company spokesman said at the time.
AB was reported to be gearing up to produce 100,000 Electrons, too. Handy, that, since by October, Acorn was claiming it had taken orders for more than 150,000 machines. That figure was, it was forced to admit, far bigger than it could cope with; it had no hope of satisfying demand.
Surging demand
"We are ramping up production, and we should reach our target of 25,000 machines a month [just] before Christmas," an Acorn spokesman confessed.
The sums tell the story: at that rate of output, it was going to take Acorn more than six months to deal with the backlog let alone new orders received in the meantime. It was the early days of the BBC Micro all over again.
Retailer WH Smith was keen to offer the Electron but was able to stock just two of its London branches. "We're having to disappoint customers," said a spokeswoman for the newsagent at the time. "We are not able to supply demand. What we have has sold out, and while we are expecting more deliveries the amount will still be well below demand."
Maybe that was just as well. As Popular Computing Weekly reported in early November, there was still no Electron-specific software to buy. By now it was clear that AB Electronics would not be ready to ship Electrons until the following year. Acorn quickly signed Hong Kong contract manufacturer Wongs, which said it would be able to tool up and start shipping machines by the end of November.
Acorn marketing manager Tom Hohenberg would many years later place the blame for the slow production ramp on Ferranti - later GEC Plessey - for failing to punch out sufficient working ULAs. Only one in ten worked, he claimed. No wonder Acorn brought in VLSI Technology, which would later fab the first ARM chip, to produce a CMOS version of the ULA during 1984.
By then, though, the bottom had dropped out of the UK home computer market. The boom was over. Unlike Dragon Data and Camputers, Acorn didn't go under in 1984, but it struggled. "Whereas the trucks had been lined up at either end of the Wellingborough warehouse delivering and collecting machines before Christmas, after Christmas they were just delivering and the company ended up with £43 million of unsaleable stock," said Hohenberg.