This article is more than 1 year old
Acorn's would-be ZX Spectrum killer, the Electron, is 30
The story of the BBC Micro Junior
Acorn in extremis
At the height of 1980s micromania - just a month or so after the Electron launch - Acorn's founders put ten per cent of the company's privately held shares up for sale on the Unlisted Securities Market (USM). The price was set at a minimum of £1.20 a share, and with 11.24 million shares available to buy, the sale made millionaires of Chris Curry and Hermann Hauser, and helped pave the way for future expansion of the business. Acorn took the BBC Micro into the US market, and established a US subsidiary, Acorn Computer Corporation, at a cost of £2.5m. The rights issue allowed Acorn to acquire UK IT giant ICL's school computing division and to put in place a plan to buy Torch Computers, a firm that made micros based on the BBC motherboard and which had launched in 1982 with Curry's help.
But the US venture was a failure, costing the company £6m in the end. Acorn had aimed to take ten per cent of the US schools computing market but ultimately won "far less" than that, a company spokesman admitted at the time. During 1984, Acorn cut its losses and slashed the scale of its US operation by 80 per cent, leaving only an R&D facility and a "small office" to handle sales such as they were.
Acorn advertises the Electron... on telly. This ad cost £150,000 to make - "a fortune in those days", says former Acorn marketing manager Tom Hohenberg
Acorn then expected to sell 300,000 BBC Micros and Electrons over the Christmas 1984 period, but in the event only 200,000 were sold. Electron sales, in particular, were "not in the same league as Commodore or Sinclair" a spokesman admitted. As Steve Furber says now, the Electron was a "1983-specification machine not a 1984-specification machine". In a bid to shift more Electrons, come January 1985 Acorn cut the micro's price to £129, what Sinclair was then charging for the 48KB Spectrum Plus and a move investors feared would diminish Acorn's profits even further.
Fortunes were turning. The six months to 31 December 1983 had netted Acorn record sales revenues totalling £40.4m, in turn yielding profits of £5.21m. A year later, that surplus had vanished, and the company lost £10.9m in the six months to 31 December 1984.
So investors turned away from Acorn shares. Early in February 1985, the value of the stock plunged to 23p, a fraction of the issue price, cutting the company's value from £216m a year previously to £31m, and triggering the suspension of their sale. Trouble was brewing: only the week before, Acorn put in a temporary chief executive, Dr Alexander Reid, to handle the company's day-to-day operations. Then it sacked 31 of its 450 workers and fired its financial advisor, Lazards, after disagreeing about how the company should be run in the future. Eleven of its 17 product distributors were culled, and the Torch takeover was canned.
Crisis point
A few weeks later, one of Acorn's creditors, circuit board supplier Circuit Techniques sought and won a court order calling for the company to be wound up because Acorn had, CT claimed, been unable to pay bills totalling £19,000 issued since November 1984.
Enter the Italians. At the end of February 1985, Italian IT and office equipment firm Olivetti said it would pump £10.39m into Acorn in return for 49.3 per cent of the British company, in effect a controlling stake. Hauser and Curry would keep 20.1 per cent and 16.5 per cent, respectively, 36.5 per cent in total, and step away from running the company they had founded in 1978. A further 90 general job cuts would be made and the Acorn Business Computer (unveiled in July 1984) would be killed off before it even shipped. The Acorn Communicator, a proposed micro with an integrated phone, would never see light of day either - ditto the £3,500 to £8,000 Cambridge Workstations Acorn was planning to base on National Semiconductor's 32-bit 16032 processor.
But the Electron, seen to be low on Olivetti's list of priorities too, managed to hold on. "We will be continuing to sell the Electron this year and hopefully next year as well," pledged Reid, still interim chief executive and, by the end of February, also company chairman. But it was clear that the company was simply selling off existing stocks of the micro - only if they shifted would more be made. "Whether we will go into production on the Electron again or not will depend on our sales level during the year," he admitted.
Yet more redundancies followed, and by the early summer it was clear even Olivetti's cash injection wasn't medicine enough to revive the ailing Acorn. Acorn's shares fell as low as 9p, though they gained a few pence soon after. At the end of June trading in them was suspended again. Reid stepped aside as interim chief exec to make way for Olivetti appointee Alex Umboldi.
July was a time of crisis for Acorn. It had expected a 40 per cent decline in sales, but the fall it experienced proved much worse as the uncertainty surrounding the company's future compounded the existing downturn in consumer sales. Extra cash was desperately needed, and Acorn even pleaded with the BBC to reduce or postpone the royalties it paid to use the corporation's logo on the Model B and recently launched B+ machines - though not, of course, on the Electron. Proposals went back and forth between Acorn, its creditors, its merchant banks, Olivetti and its other major shareholders. Could the Italian company - or another rescuer - be persuaded to cough up a further £20m to save the business?
Road to recovery
It was willing to trade more capital for stock, but not as much as that. At the end of the month, it increased its stake in Acorn to 78.9 per cent by injecting a further £4m. Hermann Hauser and Chris Curry were left with with a combined stake of 14.5 per cent. The BBC agreed to waive £2m in owed licensing payments, and Acorn's creditors kissed goodbye to some £7.9m they were owed by Acorn. Had the company crashed they would have got nothing. Creditors at least got £8.4m up front and £4.4m in loan stock. But by now 176 of Acorn's 451 workers had lost their jobs.
The tsunami had subsided. "The cash injection was needed for the immediate survival of Acorn," said Umboldi. "The financial position of Acorn is now stable."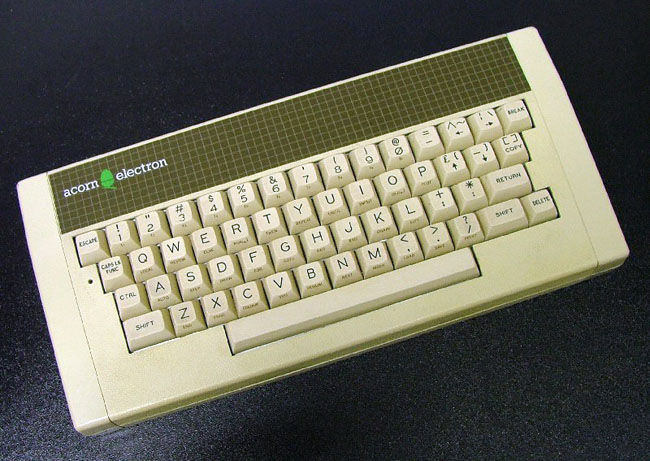 Source: No BBC logo here
Quagmire
So too was a deal with the creditors, Alexander Reid revealed. "Acorn is now stripped of the problems of the past."
Acorn shares were soon back on the market. And, at the end of July, it launched what was to prove its most lasting legacy: the ARM chip. Steve Furber and Sophie Wilson had formally begun working on the processor in October 1983. It was Furber's first major project after the Electron ULA was complete.
The Electron itself was still around, but two years on from its launch, it was getting harder to find as stocks dwindled and retailers refused to take more. Dixons had resorted to flogging it off for £100 with a bundled tape deck and five software packages. Indeed, by the end of September it had agreed to buy all of Acorn's remaining unsold Electrons.
How much the retailer paid was never disclosed, but it amounted to less than it had cost Acorn to make them in the first place. The sale also marked the effective end of Acorn's presence in the UK home computing market. The Electron was all but dead, and the 64KB BBC B+ and its newly announced 128KB sibling were priced at £469 and £499 - well above what most ordinary buyers were willing to pay - had they been keen to buy anything at all. ®
Special thanks to Professor Steve Furber for the invaluable insights he gave into the Electron ULA design work