What Surface RT flop? Nokia said to be readying WinRT slab for September
Finnish firm not one to turn down a dare
---
New reports have emerged suggesting that Nokia is planning to boldly go where other device makers fear to tread: the Finnish firm is reportedly planning to release a tablet running Microsoft's ill-fated Windows RT operating system.
Murmurs that Nokia is working on a Surface RT competitor have been buzzing around for months now, but on Monday The Verge cited a source who claimed that specs for the device have been finalized.
Nokia's fondleslab – reportedly dubbed "Sirius," though it's not clear whether that's the product's commercial name or just a codename – will reportedly be based on a quad-core Qualcomm Snapdragon 800 SoC with 2GB of RAM.
The device's screen will be one of its main selling points. It will be a 10.1-inch panel, like Surface RT's, but it will run at 1920-by-1080 resolution, a step up from Surface RT's 1366-by-768. The display will also reportedly be extra bright to allow viewing outdoors.
Rounding out the package will be a 6MP rear camera and a 2MP front one, a Micro HDMI port, one Micro USB port, and a microSD reader that will support cards of up to 32GB.
The tablets will feature Lumia-like design and will come in a variety of colors. At least some versions will include LTE connectivity, and battery life is said to be in the 10-hour range.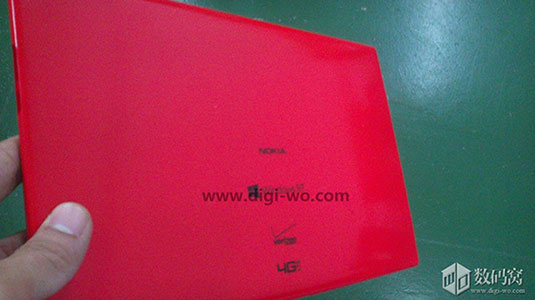 Photos leaked by a Chinese tech site claim to show Nokia's new tablet (Source: digi-wo.com)
If the rumors are true, it will be a daring step for Nokia, given that all of the other manufacturers that originally signed on to produce Windows RT devices have either discontinued their offerings or never green-lit their assembly lines to begin with.
Asus became only the latest device maker to wind down its Windows RT business earlier this month, with CEO Jerry Shen observing that "industry sentiment is ... that Windows RT has not been successful."
Nokia's reentry into the tablet market, however, has been a long time coming. Windows Store ad network AdDuplex claims it first began seeing a Nokia device running Windows 8/RT in its server logs in October 2012.
"The device was named RX-107," AdDuplex wrote in a blog post on Monday. "Then we've seen RX-108. And then RX-113, 114, 115, 116. Interestingly enough we haven't seen RX-109 through RX-112. So it's hard to say if all of these are just variations of one device progressing through development stages, or 2 device lines (107-108 and 113-116) or something else."
Whatever is brewing in Nokia's Espoo headquarters, we'll probably see it officially unveiled in a few more weeks. Nokia is reportedly planning a major launch event to take place on September 26, when it is expected to unveil not just a new tablet, but also a new phone model with a hefty six-inch screen. ®