Happy birthday MIDI 1.0: Slave to the rhythm
Part Two: The notes in the machine
---
Platform alterations
Another aspect was having both MIDI In and Out plugged in on synthesisers enabled System Exclusive data to be sent and received to store patches or edit sounds. Lest we forget, multiple in ports would allow alternative controllers to be plugged in easily and recorded simultaneously. For instance, MIDI guitar and MIDI sax playing together. Oh and don't forget using these ports for SDS, the sample dump standard. Shall we talk about that now? Nah, it'll keep.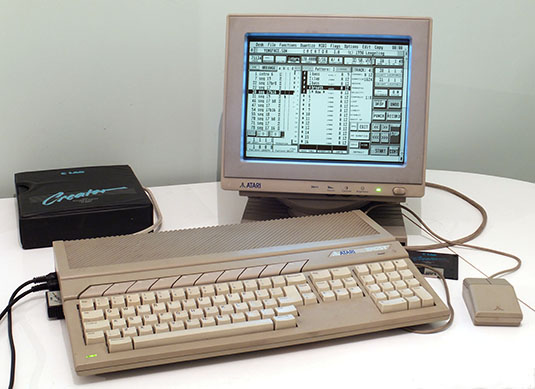 A 1989 Atari 1040STFM running C-Lab Creator MIDI sequencer in 2013
The other function these professional interfaces offered was an integrated timecode reader/generator to synchronise MIDI sequencing software to tape or video. Atari users would gain similar functionality, but somewhat scaled down, just a few extra ports and synchroniser features with C-Lab's Unitor and Steinberg's MIDEX+ being popular for users of Creator/Notator and Cubase, respectively.
In the USA, the likes of Passport Design Master Tracks Pro, Opcode Vision, MOTU Performer and Twelve Tone Systems Cakewalk were making big impressions on Mac and PC users. Meanwhile, in Europe, excellent software for the Atari was being developed in Germany by Gerhard Lengeling (C-Lab Creator and Notator) and Karl Steinberg (Pro 24, Cubase).
Inevitably, the cost of rival Mac and PC systems fell, and the Atari's star began to fade. Especially, as systems enabling MIDI and hard disk audio recording to run in tandem were now vying for position. The Atari Falcon could perform this feat and C-Lab even bought the rights to the design to keep it going for a while longer.
Still, the Atari legacy continues in one way or another. Certainly, its MIDI timing has a reputation for being rock solid and many still use it to this day for this reason. I couldn't bear to part with mine either even though, thanks to legacy song support and MIDI Files, my Atari Creator and Cubase sequences have migrated to the Mac.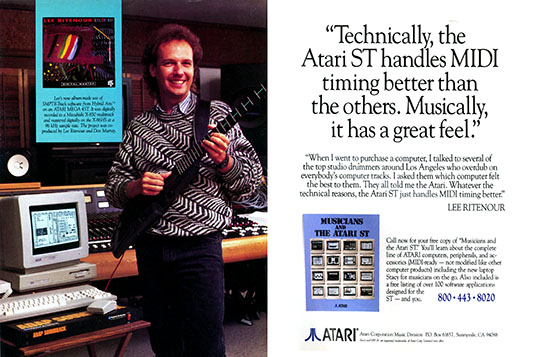 Lee Ritenour with a Yamaha G10 MIDI guitar endorses the Atari for MIDI sequencing
Click for a larger image
Tracing Logic
Likewise, the software from C-Lab and Steinberg found its way to Mac and PC platforms. That said, it was a bunch of programmers who left C-Lab to form Emagic that were the driving force to deliver Notator Logic for Mac and Windows users. Logic, as it later became was bought by Apple in 2002 and the Windows version killed off in the process, along with the peripheral hardware offerings.
Rebranded Logic Pro, Apple has made a point of aggressively pricing this Mac-only product to lure musos to the platform. The latest version, Logic Pro X, was released last month as an app download for £140. When Logic Pro 7 was introduced in September 2004, Apple was asking £699 for it, the going rate for professional audio-MIDI composition software, pricing levels which rivals still endeavour to sustain to this day.
Over the years, Steinberg has changed hands too. It was owned by Pinnacle for a couple of years before being acquired by Yamaha in January 2005. Cubase continues, with more features than ever, now at version 7. Yet even from their early days, what both these German developers brought to sequencing, was a different approach to the task than the US developers were offering.
While there were plenty of similarities in many areas, it was the clarity in presentation of various edit and arrange windows, the easy on-screen manipulation of data and the simplified execution of repetitive tasks, that really stood out. The Yanks weren't short on ideas, but edit windows could be fiddly and the frequent mouse-clicking – often required for basic tasks like transport functions – seemed like an obsession.
Sound thinking: Editor/Librarian packages
Besides synth patch archiving, Editor/Librarian software could be used to organise instrument types. Using a librarian I'd often compile a mixed bag of sounds that I'd sling over to my Yamaha TX7 to get some ideas flowing, while at other times I'd just fill it up with basses or piano sounds because I knew this sound module had a particular character (FM synthesis) that would be ideal for this task.
For the most part I used the wonderfully reliable BeamTeam editor on the Atari before switching platforms. Opcode's Galaxy Plus was a favourite on the Mac and Emagic's SoundDiver looked promising for Mac and PC. However, when Apple bought the company, SoundDiver lingered in beta for OS X for yonks before disappearing from the FTP site. If you can find it anywhere on-line, I can confirm that the 3.1 beta 2 does work if you have a SoundDiver XSKey authorised Logic 7 dongle and Mac OS X 10.6 or earlier.
MOTU's Unisyn is still on sale, but it hasn't been updated in nearly a decade. Opcode was sold to Gibson in 1998 and was never heard of again, although Opcode lead programmer Doug Wyatt went on to join the Apple team developing the new Audio and MIDI services for Mac OS X.
The best of breed applications could also display the patch names – instead of just program change numbers – in the host software, which was a real help when dealing with an extensive palette of customised sounds.
Another great thing about editor/librarian packages is that while they might not use the same file formats, if you fill up a synth with sounds from one librarian, you can then reel it into another from the sound module by using the MIDI hardware as a go-between. That's how my TX7 sounds live on using SoundDiver, revived from their Atari days 25 years earlier.
A non-commercial alternative to synth editing was to teach your software SysEx messages. Steinberg's Cubase had a crack at this with its Mixermaps environment. By simply altering one of those buried parameters from the MIDI hardware whilst the Cubase Learn feature is enabled, virtual buttons, knobs and sliders could be assigned SysEx functions. You'll find most sequencers have something like this tucked away somewhere these days.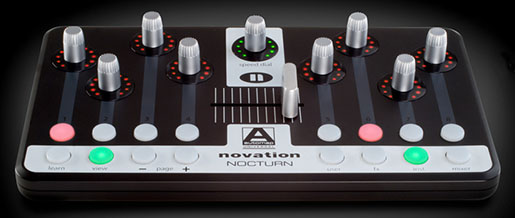 Novation Nocturn MIDI controller for plug-ins
Today, it's curious that this learning process of teaching the computer software hardware synth parameters has now completely reversed. The rise of desktop music production now sees hardware synths emulated in software. For the most part, their controls remain as MIDI functions and so now we have hardware controllers for software synths with real knobs learning these virtual parameters. At least it keeps the MIDI hardware manufacturers of old in business, as you'll find the likes of Akai, Alesis, Korg and Novation, to name a few, producing this kit.