Storage upstart Violin Memory has publicly filed for an IPO and is seeking $172.5m.
The maker of all-flash arrays has handed in its S-1 homework to financial watchdog the SEC; the document reveals it has consistently made losses while revenues have grown over the past three years.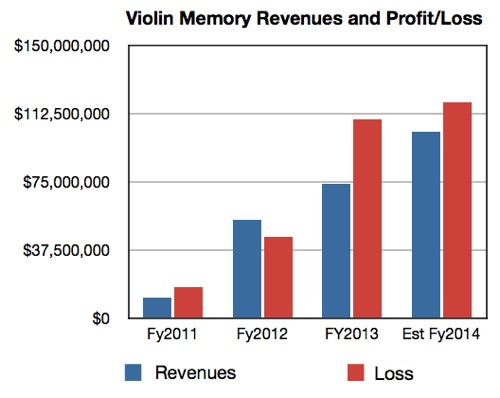 Violin Memory year on year ... Sales rising (yes!) just like its loses (oh)
So that's, for instance, a $109m loss in fiscal 2013 (ended 31 January), up on the previous year's $44.7m loss, from revenues of $73.7m, up from $53.9m in fiscal 2012. The fiscal 2014 numbers in the chart above are our estimates based on simply doubling the half-year figures.
Violin Memory has had IPO rumours swirling around it for some time with a $2bn valuation at one time. The S-1 filing document declares:
Violin Memory has more than 250 customers
Future profitability depends upon sales of its Velocity PCIe flash card product, and hyperscale customers will be pursued for this gear
It expects to "opportunistically make strategic investments in, or pursue acquisitions of, companies with innovative technologies".
Toshiba is its sole supplier of flash memory and its largest shareholder with 14.4 per cent of Violin's stock.
Violin is "negotiating a new agreement with Toshiba to license our intellectual property related to our Velocity PCIe Flash Memory Cards and jointly develop next generation PCIe cards".
The S-1 filing adds that HP accounted for 65 per cent of Violin's revenue in fiscal 2012, that's $35m in other numbers. But that relationship collapsed in October 2012, seemingly because David Scott's HP 3PAR storage group saw it as competition, and also due to HP and Violin differences in the EMEA region.
The effect was devastating: HP accounted for less than 10 per cent of Violin's revenues in fiscal 2013, or just under $7.4m. So far HP has not qualified Violin's 6000 series flash array for resale at all.
Violin is exposed to the vagaries of a few large customers; 37 per cent of its revenues in fiscal 2013 came from five clients. CompSec, which resells to the US government, represented 12 per cent. In the first half of fiscal 2014, ended 31 July this year, Avnet was responsible for 12 per cent of Violin's total revenues, reselling to a global retailer.
The S-1 filing formally notes: "There is substantial doubt as to our ability to continue as a going concern as a result of recurring losses from operations and negative cash flows." The filing of course is made on the basis and belief that this will not happen, and much depends upon the success of the Velocity PCIe flash card line:
We have devoted a significant amount of resources to developing and marketing our Velocity PCIe Flash Memory Cards and believe our future growth will substantially depend on the market acceptance and adoption of this new product. Because we are strategically targeting the PCIe memory card market and expending a considerable amount of resources in doing so, if our Velocity PCIe Flash Memory Cards do not gain market acceptance, our results of operations, business and prospects would be materially and adversely affected.
If the cards do well then profitability beckons. If they don't, it won't.
For Violin to be successful in general it has to stay ahead of the all-flash array startup pack (Fusion-io, Nimbus Data, Pure Storage, Skyera, SolidFire and Whiptail) and prosper in the face of mainstream vendors' all-flash arrays (EMC, HDS, HP, IBM and NetApp), as well as PCIe flash card offerings from suppliers such as Intel, LSI, Micron, Samsung and SanDisk.
Violin intends its shares to be traded on the New York Stock Exchange, and designated VMEM. ®
Similar topics