MIDI daddy Dave Smith: '30 years of version 1.0 shows we got it right'
El Reg chats to muso interface co-founder on this enduring digital spec
Power tools
El Reg: Do you think the MIDI interface will slowly disappear like the floppy drive – with HD MIDI replacing it as the DVD writer did the floppy? Or is MIDI interfacing too valuable to be superseded and will continue to appear like VGA ports on laptop?
Dave Smith: "These are musical instruments, after all, and not just random technology that is guaranteed to become obsolete (floppies, small green text monitors, etc). Musicians love vintage synths – that alone will keep MIDI around."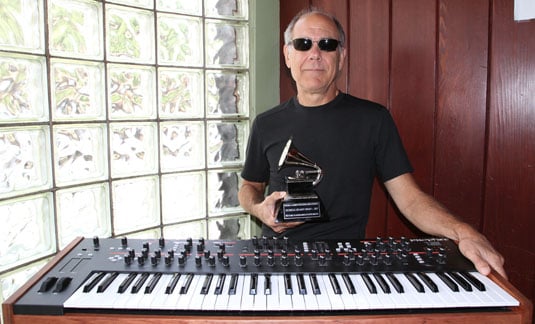 30 years later: Smith and Kakehashi get the Technical Grammy Award 2013. Here, Dave plays up to the Mr Hollywood look and shows off his latest digital/analogue hybrid synth, the Prophet 12.
El Reg: I've heard it said that the predominance of the keyboard as the MIDI controller has had a negative impact on players of other instruments that are harder to adapt to work with MIDI. Compromises are inevitable, but do you think manufacturers have done enough to deliver alternative controllers that are both expressive and affordable?
Dave Smith: "My opinion is that synthesis lends itself best to keyboards, especially when talking about popular music. It's certainly capable of being controlled many other ways, via MIDI or whatever, but so far nothing has caught on beyond a small minority.
"It's not difficult to build expressive controllers, and many have appeared. But most musicians do not want to invest the considerable time training on a device that may not be around in five years. Unfortunately the market does not seem to be there."
El Reg: Another school of thought is that experimentation in electronic music has suffered due to the predominance of the MIDI keyboard synth. With modular synths of old there was a process of discovery. What's your view on the evolution of electronic music in the MIDI era?
Dave Smith: "When MIDI first came out, most academics trashed it, listed all the things it couldn't do to their satisfaction. But within a few years they started realising how much they could do with it, and started using it in many projects, usually very experimental [ones]. A smart musician uses the tools available to them, and MIDI is simply another tool. It certainly doesn't prevent anyone from doing something different."
El Reg: With the rise of virtual instruments, has experimentation returned or is it simply a case of having more to choose from and users are becoming desensitised by choice?
Dave Smith: "I don't think it has had much of an effect. But yes, there are so many disposable softsynths out there that it can be hard to take them seriously as musical instruments."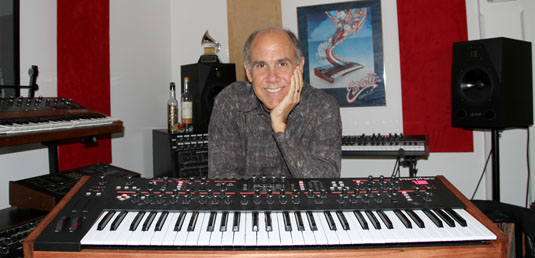 Making a Prophet: Dave Smith with his instrument designs old and new
El Reg: Music attracts players of all disciplines, while some would take a purist approach, others make claims that the iPad and touch control along with wireless interfaces are the most significant changes since MIDI. You've seen a lot of technologies come and go over the last 30 years: what's your view on touch control and its associated music applications?
Dave Smith: "Paying $2.99 for an iPad app, using it for a couple weeks, then moving on to the next is not the progression I like to see, as an instrument designer. Touch control is always cool, but it's a matter of making use of it within the context of popular music. Gee-whiz demos might be fun to watch, but don't usually translate into real songs."
El Reg: With iPad applications such as GarageBand which simplify MIDI and audio recording, the idea of learning MIDI seems lost these days. Does this seamless experience appeal to you or do you have any concerns that new users might not get to explore MIDI's full potential or even be aware of it?
Dave Smith: "Seamless is good, as long as it doesn't limit creative growth. Music has a way of self-correcting; if it becomes too bland, something cool and different tends to pop out and shake things up."
El Reg: If you could do it all over again, what would you change?
Dave Smith: "Nothing! 30 years of version 1.0 pretty much says we got it right." ®
The MIDI spec was given away free, so Dave Smith didn't make a penny out of it. Founded in 2002, his company Dave Smith Instruments produces distinctive music hardware, made in the USA.