Nissan has said it is two car generations away from building mass-market self-driving vehicles, and has promised to have the first hands-free automobiles available for sale within the next seven years.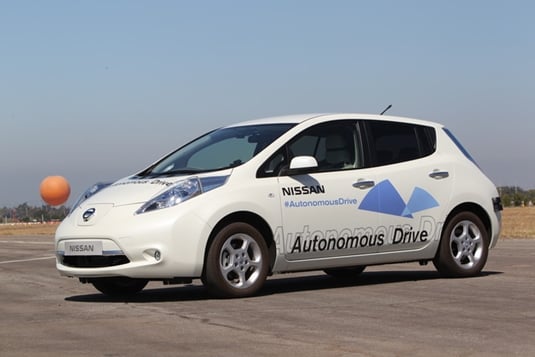 Nissan want this on the road by 2020
"Nissan Motor Company's willingness to question conventional thinking and to drive progress is what sets us apart," said Nissan CEO Carlos Ghosn.
"In 2007 I pledged that – by 2010 – Nissan would mass market a zero-emission vehicle. Today, the Nissan LEAF is the best-selling electric vehicle in history," Ghosn boasted. "Now I am committing to be ready to introduce a new ground-breaking technology, Autonomous Drive, by 2020, and we are on track to realize it."
By the end of next year, Nissan hopes to have an autonomous vehicle test track built in Japan to test vehicle design and operation. The track will mimic real-world conditions, to the extent of having solid stone buildings to test out the car's ability to handle itself without a hands-on driver.
The self-driving system Nissan is developing includes a 360-degree camera system dubbed "Around View," as well as laser scanners and a server's worth of computer hardware running AI systems. It is designed to be used in conjunction with GPS, but not be dependent on it. Nissan says it wants all the information the car needs to operate on-board rather than beamed-in.
Nissan's program might sound ambitious, but the company is lagging in comparison to Google. The Chocolate Factory has promised self-driving cars on the roads by 2017, and has already set up the legal framework in California and Nevada to allow them to be driven on public highways, albeit with a human at the wheel in case of a sudden systems crash.
Other manufacturers, such as General Motors, are also getting in the game, and the combination of years of research, a DARPA challenge or two, and lower costs for computing power and sensor hardware are making driverless cars a commercially viable prospect.
Nissan and Google both tout the cars as safety devices that will stop needless death and suffering by taking fallible humans out of the driving equation. They also point out that time spent commuting could be used for productive work.
That's as may be, but if this technology really kicks in, it's going to throw a lot of people out of a job. Bus drivers, truckers, and even taxi drivers could all be dying breeds once the technology is good enough to no longer require a human backup. ®