Dell to axe 1,000-plus call-centre bods, enterprise staff in prep to go private
Fresh waves of layoffs every week, say sources
---
Dell is laying off staff in its enterprise division, The Register understands, as company honcho Michael Dell prepares to take his firm private.
El Reg has heard that Dell is steadily ridding itself of enterprise workers, including senior technologists, strategists, developers, and sales employees, as well as a vice-president.
The tech titan is also, we understand, shedding heads from systems, database, performance and access management biz Quest, which it snapped up for $2.4bn last year. Register sources claimed fresh layoffs are now happening every Wednesday.
And Dell is planning to let go more than 1,000 people at its Mohali call-centre in India - and close that operation down, we're told.
The background to this is Dell's recent decline in annual revenues ...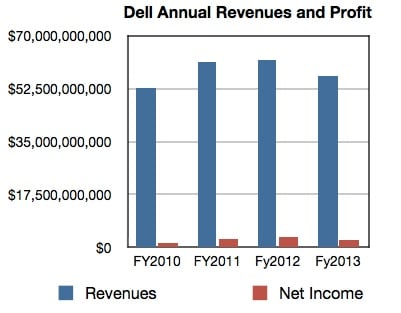 Dell annual revenues to FY2013 ... Up, up and oh dear
… and profitabilty …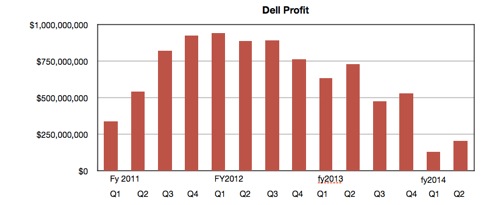 Dell profits ... a gradual decline
… which is the backdrop to Dell founder and CEO Michael Dell wanting to take the company back into private ownership. This is so that it can be restructured, El Reg understands, in response to: the the declining PC market; the growing smart mobile device market; the IT industry moving to converged and software-defined compute, storage and network components in enterprise data centres; and the shift to public and private cloud-style computing.
Dell corporate spokesman David Frink told The Register:
We have communicated to affected team members a limited workforce reduction based on Dell's continuing effort to become more efficient and deliver the most value to customers. Again, it was a limited action.

We do not provide specifics regarding numbers, locations or those affected. Meanwhile, it's important to note that we have increased our global and US workforce this year and last, and continue to hire for a variety of skill sets as we invest in additional hardware and software development, technology solutions and enterprise sales capabilities.

We recognize the significance of any action for those affected and are working to redeploy those who have skills for other opportunities. Those who can't be redeployed receive a competitive severance package, including outplacement assistance. As is our practice, we won't comment on speculation regarding operations at any specific location.
It seems that Dell, which has about 108,000 workers worldwide, is rebalancing the skillsets of its staff, with some being laid off if there are no alternative employment opportunities for them within the firm. ®