The US is still a dominant force in mobile app development worldwide, but that could be changing, based on the latest data from app analytics outfit Flurry – and a certain Finnish firm could be leading the way for the rest of the world.
US-based developers produced 36 per cent of all active mobile apps as of June 2013, according to the Flurry report, leaving developers in all other countries to cut up the rest of the pie. But that figure was down significantly from the previous two years, in which the US produced 45 per cent of active apps.
Even when Flurry weighted apps based on how much time users spent with them, US-made apps were less popular than they once were. Apps from non-US countries made up 30 per cent of the total, up from 24 per cent in 2012 and 25 per cent in 2011.
Users' preference for locally produced apps accounts for at least part of that picture, particularly in countries where English is not the primary language.
Chinese mobile users, for example, spent 64 per cent of their smartphone time in Chinese-made apps and just 16 per cent of their time in apps made in the US. Similarly, Brazilians used apps made in Brazil 8 per cent of the time (while the rest of the world hardly ever did), and even Brits preferred a fair share of their apps to be homegrown, choosing British apps 13 per cent of the time.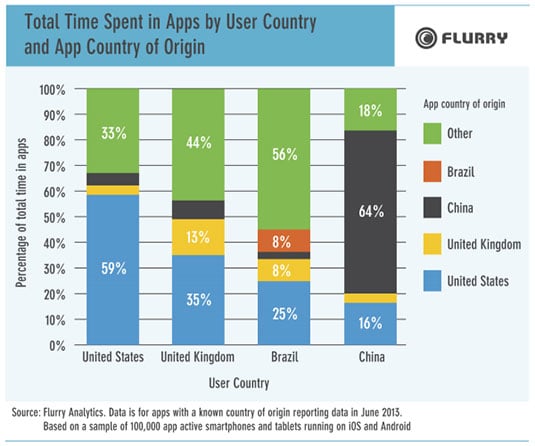 Not everyone is in love with US-made mobile apps the way Americans are
Of the four large regional markets Flurry sampled, only Americans overwhelmingly favored US-made software, spending 59 per cent of their mobile time in locally-produced apps.
Chinese-made apps have enjoyed some measure of success outside of the Middle Kingdom, having captured single-digit percentages of users' time in Brazil, the UK, and the US. Even more interesting, however, is that some of the more successful apps are emerging from unexpected regions.
When Flurry ranked countries by taking the total amount of time users spend in their apps worldwide and dividing it by the total percentage of apps they developed, Bulgaria, Denmark, Ireland, and Slovenia each had an "impact rating" approaching that of the US.
But there was one standout winner on the impact scale, and that was Finland. The Scandinavian nation's impact rating was four times higher than that of the US, despite having 1/59 the population and a language with fewer native speakers than the population of New York City.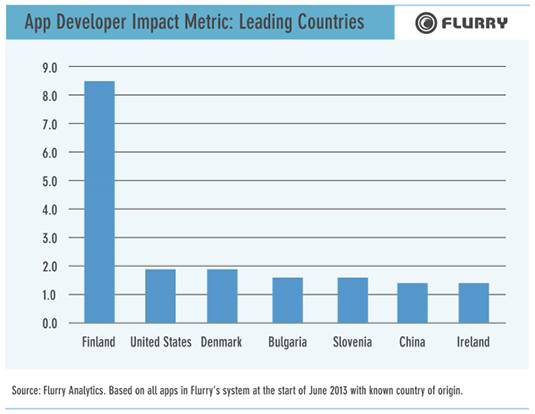 Nobody knows how to engage mobile users like the Finns and their fuming fowl
It's tempting to pontificate about why this might be. Finland's population is relatively tech-savvy, you might say, and Espoo, Finland–based Nokia once dominated the mobile phone industry. But no; Flurry measured none of those factors.
Based on Flurry's metric of user engagement divided by total apps produced, it seems clear that Finland's phenomenal showing in Flurry's stats comes down to the success of one company: Rovio, with its blockbuster family of Angry Birds apps. In March, Forbes reported that gamers had downloaded Angry Birds products a staggering 1.7 billion times and counting.
Flurry notes that other non-US apps have enjoyed similar success, including Russian-made Cut the Rope and Australia's Fruit Ninja.
What makes these breakout successes possible, Flurry argues, is the ease of distribution through Apple's App Store and Google Play, coupled with the exploding market for mobile devices in many parts of the world. The cost of developing mobile apps is low, particularly in developing economies, and the cost of marketing them is far lower than it has been for traditional desktop software.
But the real key to success in the future, Flurry argues, will be to create apps with global reach – by making apps that either can easily be translated into new languages, or that appeal to a wide audience, irrespective of language.
In other words, there's an Angry Birds imbalance in the global app market, and if US developers want to maintain their dominance in the area, they had better start rethinking their audience and how they build their apps. ®