Look out ARM, Intel, here comes MIPS – again
Imagination CEO: 'We are trying to get MIPS back to its glory days' with 25% share
Imagination Technologies, best known for its PowerVR graphics-core designs used by a host of system-on-chip (SoC) purveyors from Apple to Intel, wants world+dog to know that it is dedicated to grabbing a hefty chunk of the compute-core market with its MIPS-based designs resulting from its acquisition of that venerable company, completed this February.
"We didn't acquire MIPS for the hell of it," Imagination CEO Hossein Yassaie told a gathering of reporters and analysts on Wednesday. "You know, a hundred million dollars is a quite lot of money for an IP company to spend on a business."
MIPS compute-core designs may have made their mark in embedded systems, but Yassaie's plans are more far-reaching than that. "The reason for acquiring MIPS is because we want to make sure we have an architecture we can take to every market that requires a CPU," he said.
"We are aiming to have 25 per cent market share of the CPU IP market. What we are trying to do is get MIPS back to its glory days."
Yassaie said that Imagination is gaining more design wins in MIPS's existing markets, such as the much-vaunted "Internet of Things", networking, home multimedia, and the like, but that there are many more places where MIPS's low-power, small-footprint, RISC-based, 64- and 32-bit IP can find a home.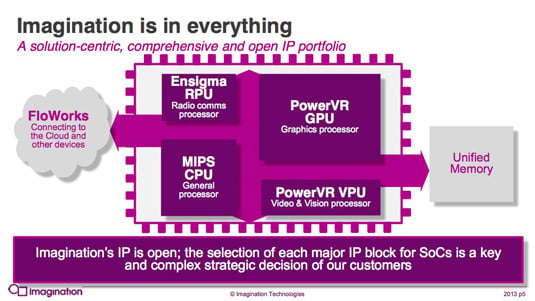 Imagination may be known for its graphics cores, but it also offers a SoC full of IP
One market in which MIPS cores would be well-suited is the newly emerging market of "wearable computing", where size and power are critical. Imagination's graphics IP has already found its way into such emerging-market products as Google Glass, for example, and work is ongoing with other new-market products. "If you look at new funky products, there's a pretty good chance we're in there," Imagination marketing headman Tony King-Smith told the assembly.
For MIPS cores to achieve a quarter of all CPU sales, however, Imagination will have to do more than move them into new markets. It will have to crack existing markets, as well – and that's the plan. "The mobile market is a key area for us," Yassaie said, "and ultimately the server market is a key area for us," competing with Intel and ARM in the fast-rising dense-server space.
Key to success in the mobile space will be the fact that Android runs on MIPS devices, that Android apps compiled for MIPS can now be downloaded from Google Play, and that legacy Android apps – a goodly number of them, at least – can be made to run on MIPS devices using the MagicCode runtime converter.
Regarding servers, Yassaie pointed to the MIPS Series5 "Warrior" compute cores announced this June. "You'll see us talking about products in that family imminently – I won't give you an exact date, but imminently," he said.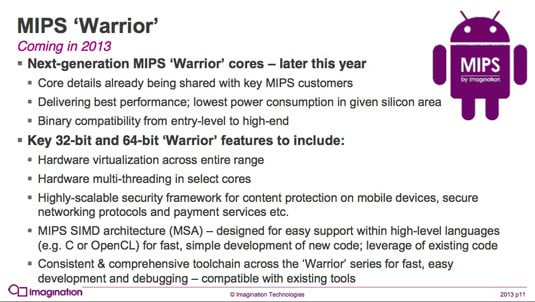 'Warrior' will be the first generation of MIPS cores to be released under the Imagination brand
Warrior is not targeted only at servers, however. "By the end of next year we will have completed the entire product delivery," Yassaie said, "and in that kind of timeline, I don't expect any market segment that we would not have a solution for."
The IP business, of course, requires not only the completion of IP designs, but also working with partners to incorporate those designs, optimize them, then turn them into working silicon at high volume. Such product development takes time. Speaking of server chips, Yassaie admitted, "For us to be a significant player in that segment, it will take several years."
Whether the server market will, by that time, be already saturated with 64-bit ARM-based chips from AMD and possibly others, along with low-power Atom chips from Intel, and whether the mobile market won't continue to be dominated by ARM SoCs doesn't appear to phase Yassaie and his fellow Imagineers.
As King-Smith said, "MIPS is a long-term plan for us – we make no illusions about that. ... We're a patient company. We were talking about GPUs going on-chip 10 years before it started. We know what it takes to disrupt industries, and we're very good at it."
"Patient", however, doesn't equate to "inactive" for Imagination. Just this week the company announced an expanded partnership with electronic design automation (EDA) heavyweight Mentor Graphics, work with the Taiwan Semiconductor Manufacturing Company (TSMC) on IP libraries and reference system designs for TSMC's 28-nanometer high-K metal gate "high performance for mobile applications" (HPM) and 16nm FinFET chip-baking technologies, new tools for mobile GPU–compute devs, and a new SoC based on Imagination's PowerVR GPUs and MIPS CPUs co-announced with India's Ineda Systems that breaks new acronymic ground: WPU – "wearable processor unit". ®