This article is more than 1 year old
Hey, Bill Gates! We've found 14 IT HOTSHOTS to be the next Steve Ballmer
Stop fretting, check out these peeps. Now you can go back to swimming in cash
The techie CEO
Read the comments on the insiders' Mini Microsoft blog and it's clear the kind of person Redmond techies want: one of their own, somebody with software-building skills.
There's a universal disregard for corporate business types, such as chief operating officer Kevin Turner or Tami Reller, the Windows division's chief financial officer and executive vice-president of Microsoft marketing.
Some on Wall St have lamented the lack of a technology guru at the top, somebody who can inspire geeks, who's got the next Android in mind or a Google Glass killer sketched out on a napkin.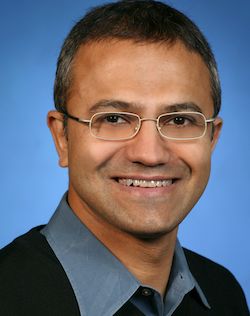 Microsoftie ... Satya Nadella
Who does that leave us? From Redmond, there's Satya Nadella, who has worked his way up to run the $14bn server and tools group admirably. There's a Twitter campaign to rehabilitate Eric Rudder, executive vice-president of advanced strategy and research, who once lead Nadella's server and tools unit.
Unfortunately, Microsoft product group heads, and those in charge of brainy bits of the company (such as Rudder), tend not to be considered experienced enough to run the entire operation. Rudder also passed on purchase of Rational tools, leaving the way clear for IBM to gobble the software maker.
Ray Ozzie was a popular and respected chief software architect brought in to be the "next Bill Gates". He wrote the Internet Services Disruption memo that described cloud-powered services delivered to mobile devices. He was behind Microsoft's "three screens and a cloud" strategy (tying together users' PCs, handhelds and TVs via an online service), and he helped form the team that built Windows Azure. Ozzie, though, never lived up to the billing of "the next Bill".
Microsoft has a strong case of Apple envy and has struggled to catch up with the iPhone and iPad. Who could Microsoft hire from Cupertino to sprinkle some magic on the Windows 8 family? Former iOS chief Scott Forstall is on the loose, having been cut free by Apple CEO Tim Cook for not apologising over last year's Apple Maps app fiasco.
Forstall joined Apple in 1997 and rose fast working on Mac OS, iOS and Siri and was mentioned as a potential successor to Steve Jobs. But, well, then there were those maps that looked rather like North Korea's take on cartography. Forestall's got the engineering talent and, based on the iOS Maps non-apology, he may also have the take-no-prisoners attitude to push his ideas through Microsoft.
The consumer CEO
Microsoft says it's a devices company, but it's not. There's a world of difference between building operating systems for PCs and portable gear, and designing, building and selling successful and desirable kit at a breakneck pace. On that basis, Microsoft may comb the ranks of consumer giants such as Samsung or Motorola - those with insider knowledge of Android and in possession of the manufacturing, channel and marketing relationships that Microsoft's Windows Phone and Surface so badly need.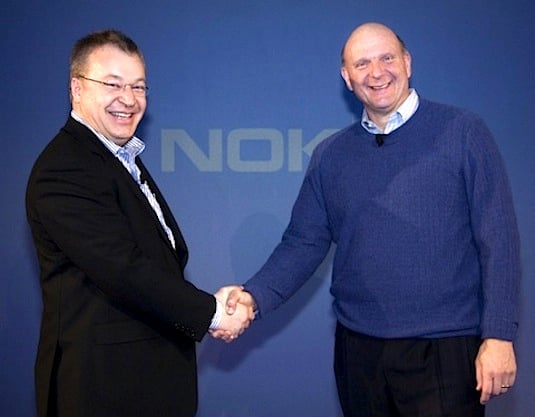 Right with you buddy ... Nokia chief Stephen Elop, left, with Steve Ballmer, now retiring
Generally, the device companies are too anonymous to make individual picks, but the one who has jumped to the fore of late is Windows Phone 8-lovin' Nokia boss Stephen Elop, if only because he's an ex-Microsoft executive in the spotlight for trying to turn around a lost super-tanker. He'd certainly pass the Microsoftie-back-in-from-the-cold test, but he didn't exactly excel at growing the Office business he was in charge of back in the day - the unit's growth remained flat under his brief tenure.
Hewlett-Packard's Bill Veghte could bring some consumer device experience, knowledge and contacts. Veghte was last week named executive vice-president and general manager of HP's enterprise group to develop the tech titan's cloud services, having worked as chief operating officer after graduating up the ladder from running HP's software business.
According to HP, he's working on marrying web and devices. More importantly for Microsoft, he's a former exec: a 19-year veteran who rose to the position of senior vice-president of the Windows business having worked on Windows Server and Windows 7.
He only left in 2010 as rival exec Steven Sinofsky took over Windows. Again, he fits the profile of knowing the Microsoft culture and coming with "real-world" experience; however, would he go back? Not only has Sinofsky now gone but so too has Ballmer, who allowed Sinofsky to triumph.
The operations CEO
Carol Bartz is a hard-working achiever who'd be a powerful choice: as CEO of Autodesk Bartz turned the company from "an aimless maker of PC software into a leader of computer-aided design software" by diversifying and improving the company's product line. She increased annual revenue from $285m to $1.523bn. She has some internet cred, too, leading Yahoo! between January 2009 and September 2011, when she was fired over the phone. Bartz was axed for failing to deliver growth at Yahoo! but she did cut costs and improved profits. ®