This article is more than 1 year old
Huawei Ascend Mate: The phondleslab for the skint
Good screen, decent performance, nice price
Review Whether you think VLPs (Very Large Phones™) are the ultimate evolution of the personal telecommunication device or the bastard offspring of smartphone and tablet, there's no doubting the little – well, not so little really – buggers are racing out of the woodwork. Most are rather expensive but Huawei's Ascend Mate, like the Samsung Galaxy Mega 6.3, is targeted at the more impecunious buyer.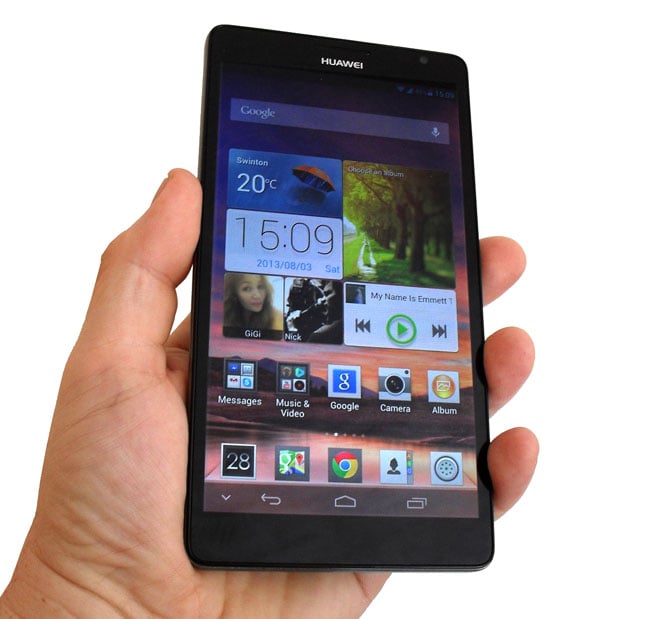 Huawei's Ascend Mate: compact. Not
The Mate is a 85mm wide, 163mm tall and 10mm thick slab. That makes it a very similar height and width to the Mega 6.3 but a full 2mm thicker. At 198g, the Mate is only 1g lighter than the Samsung but since the Mega has the bigger screen by 0.2 of an inch, it clearly takes the prize for the more cleverly packaged of the two.
There's little to say about the exterior design, which is wholly utilitarian. It is good to see the power and volume controls both placed low enough down the right-hand side to be easily accessible with your thumb, assuming you'll be holding the Mate in your right hand, of course. It's also not as tiredly familiar as the Galaxy design.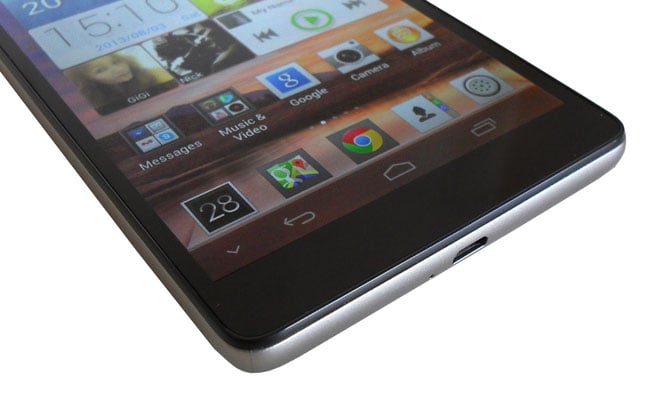 There's a micro USB port on the bottom. Note the downward arrow icon to hide menu bar
Despite being made largely of plastic, Huawei's new VLP feels both solid and well screwed together. The screen is made from Gorilla Glass. To my eyes it looks and feels rather smarter than the Mega 6.3 and the closer-to-square edges makes it easier to hold the thing securely. The extra bezel width has its advantages too: I often found myself accidentally touching the Mega 6.3's screen when reading and gaming but that happened less often with the Mate.
Check the back and sides of the Mate and you'll find that the 4050mAh battery is fixed in place and that there's a Micro SD card slot to back up the 8GB of internal storage – just shy of 5GB is all that's free after system requirements. The plastic flaps that cover the Sim and memory card slots look and feel a little on the cheap side but if you are like me they won't see much action once you've set your device up.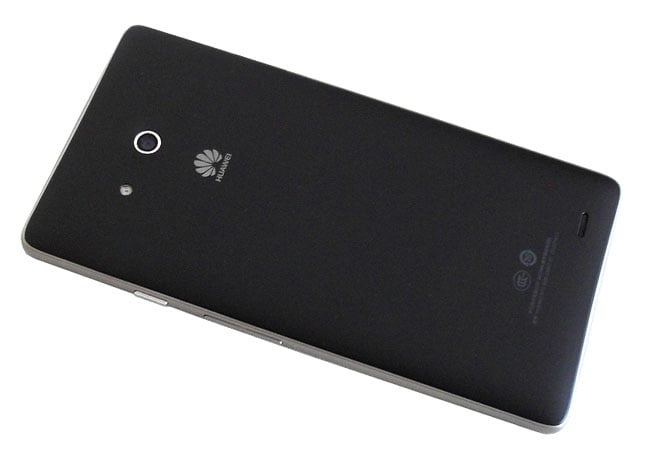 The battery is capacious but fixed
The chipset inside the Mate is the HiSilicon (read Huawei) K3V2 piece, which features a quad-core 1.5GHz processor and 2GB of RAM. Graphics are handled by a Vivante GC4000 GPU. Though puffed as a 16-core GPU, it only has two actual compute cores so don't get too excited. Running the Epic Citadel app in benchmark mode returned a score of 32.5 frames per second, well short of the mid-50s the likes of the Mega 6.3 can manage.
Running the AnTuTu mobile benchmark, I got an average score of just below 16,500. This is broadly similar to what you'd get from a Samsung Galaxy Note 2 and its 1.6GHz Exynos 4412 quad-core chip. As it is Cortex-A9 based, the CPU isn't as advanced as the latest Qualcomm Krait or Cortex-A15 designs, but real-world performance is reasonable enough. The chipset does generate a fair amount of heat compared to the competition, though.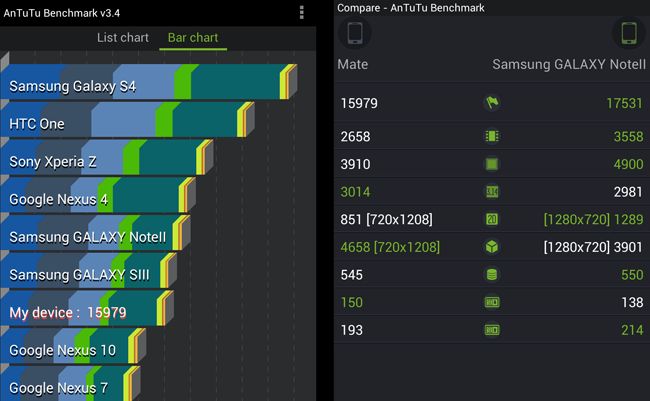 Benchmarks
All my regular 3D test games including Modern Combat 4 and EA's Real Racing 3 ran smoothly – which is all you can ask of a device with a mid-to-budget price sticker. I have read that early 'Mates struggled with some graphically intense games but I can only assume the reviewers who experienced those problems were testing pre-production models with less than fully optimised software.
Where Huawei has done something rather strange is with its new Emotion launcher, which runs over Android 4.1.2. There's no app tray so all your application icons sit on the homescreens. It's very iOS-like and I'm not at all sure I like it. To stop your screens from looking an app-strewn mess, you need to get busy and creative with the folders.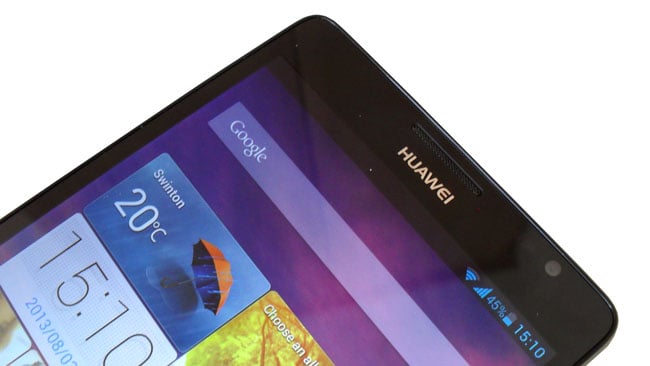 Up top
Thankfully, a random selection of third-party launchers worked perfectly well and reintroduced the traditional app tray so it's no biggie if you don't like Emotion either. If you can live with Huawei's UI, then the Mate comes preloaded with 20 different themes which offer plenty of scope for fannying around with the look and feel of the interface.