Apple to accept iPhone trade-ins at US Retail Stores
Don't be seen with that ratty old thing when the GOLD ones come out
---
With the rumored launch date of the next iPhone fast approaching, Apple on Friday began allowing iPhone owners to trade in their old handsets at the company's Apple Retail Stores in the US.
"iPhones hold great value," an Apple spokeswoman told the AFP news service. "So, Apple Retail Stores are launching a new program to assist customers who wish to bring in their previous-generation iPhone for reuse or recycling."
Apple's own stores aren't the first to accept trade-ins of old iPhones in the US. Other retailers, including Best Buy, Radio Shack, and Walmart offer similar programs.
Even mobile carriers are getting in on the action. In July, fourth-ranked carrier T-Mobile launched its Jump! program, which allows customers to swap their devices for new ones as often as twice a year. AT&T and Verizon quickly followed suit with competing offers.
Interest in such trade-in programs is expected to be high this fall, given that Cupertino is expected to announce its next iPhone – and possibly a second, lower-cost model – at a press event on September 10.
The rumored iPhone 5S – actual model name as-yet unknown – is thought to include a snappier, 64-bit processor, more storage, and a much-improved camera, and some say it will even be available in gold. Other gossipmongers believe the 5S will be joined by a less expensive, multi-colored iPhone 5C, but as is typically the case before major Apple product launches, precise details have been hard to come by.
The Apple spokeswoman declined to say how much Cupertino would be willing to pay for a used iPhone at its Retail Stores, but Apple already offers a trade-in or recycling program via its website. Under that program, a 16GB iPhone 4S in good condition can net you a $221 Apple Gift Card.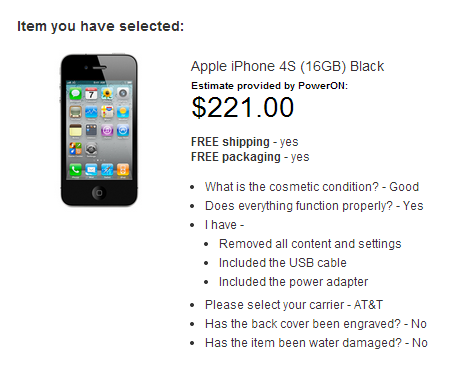 Depending on the model and its condition, your old iPhone could bring you a fair amount of cash
In-store trades may have a catch, though. Forbes reports that trades at Apple Retail Stores will only be accepted if the customer also buys a new iPhone and signs up for a new or extended wireless contract at the same time.
It's also not immediately clear whether Apple plans to expand its Retail Store trade-in program to include other iDevices besides iPhones, or when the trade-in program might be available at stores outside the US. ®