A man who squared up to cops after a domestic disturbance stabbed himself in the chest three times before biting the officers' dog, according to reports from the US.
The incident began at about 7.45pm when a deputy sheriff responded to a report of a domestic dispute in the Californian city of San Jose.
The police officer said he had arrived to find "a man in his 30s standing outside, holding a kitchen knife, which he began waving at the deputy before charging him while he was still in his patrol car", according to local news station KTVU.
A police spokesman said the man then went "beserk", smashing the windows of the patrol car and slashing a tyre. Unnerved, the trapped copper desperately radioed for backup, which arrived in the form of a K-9 unit.
During the standoff after the reinforcements arrived, the suspect is said to have stabbed himself three times, inflicting "non-life threatening" injuries.
Deputies then unleashed Ski, their doggy deputy, who charged at the man – only to be met with an alleged bite from the suspect, who police say also punched and throttled the hapless hound. He was disarmed and arrested during his scuffle with the dog.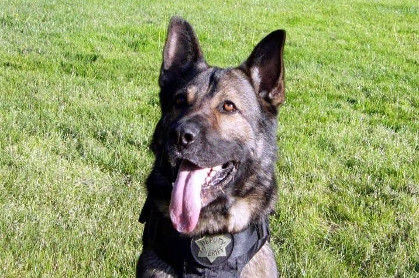 Ski the police hound, pictured before the alleged bite
Officers believe the man – who as of Wednesday had not been identified – was under the influence of drugs or alcohol.
Ski "had some minor bumps and bruises" after the incident, but was "expected to return to work soon" according to the Santa Clara County Sheriff's Office Facebook page ®.