Science fiction titan Frederik Pohl dies, aged 93
Grand master passes through the final Gateway
---
Science fiction Grand Master Frederik Pohl has died, aged 93.
Pohl was one of last survivors of Science Fiction's "golden age" of the late 1930s and early 1940s, a time when he contributed to and edited pulp fiction magazines. He was also an important figure in the emergence of fandom, founding the "Futurians".
A contemporary of Isaac Asimov, Jack Vance, James Blish and other Sci Fi royalty, Pohl's initial impact as a novelist came in collaboration with Cyril Kornbluth. The pair penned The Space Merchants, a work considered a classic for its satire depicting a future society run in part by advertising agencies and eerily prescient today in the age of search engine optimisation.
Pohl's career as a solo novelist blossomed in 1976 when he penned Man Plus, a tale of an astronaut who submits to surgical augmentation so he can survive on Mars. The novel scooped the Nebula Award for Best Novel and was nominated for many other major awards. The following year Pohl's opus, Gateway, debuted and won Pohl a second successive Nebula, plus a Hugo and a John W. Campbell Award, thanks to a tale of alien spacecraft being found on a near-Earth asteroid.
Gateway discussed asteroid mining, envisaged the rise of Brazil as a significant power and explored artificial intelligence. The novel spun out into a long series and even spawned a 1992 graphical adventure game available on Abandonia. The series went on to consider the possibility of human consciousness being uploaded into machines, even suggesting such a transition was the natural end point of evolution.
Other Pohl novels explored similarly big picture topics. Jem riffed on the cold war and the 1970s oil crises to imagine a world of three blocs – "fats", "peeps" and "greasies" - in which the West, China, and oil-rich nations fought a proxy war among colonists on a new world. Starburst cautioned that science may be leading us too far, too fast, by placing a crew of geniuses on a faked mission to the stars in the hope their isolation would produce innovation.
Midas World skewered consumerism brilliantly by presenting a world in which the rich have fulfilling jobs for as many as three or four days a week, but the great unwashed lived under an oppressive regime that insisted they participate in endless leisure the better to consume goods and services. The protagonists "save" the world by sneakily instructing their domestic robots to wear out their pointless consumer goods, a "crime" that changes the world by letting ordinary people get on with living instead of endlessly consuming.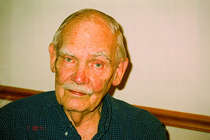 Frederik Pohl. 1919-2013
Pohl could also pen purest space opera. The World at the End of Time made a protagonist out of an immortal being living in the heart of stars and waging war against its kind across galaxies and aeons, in the process flinging a human into a distant future not far removed from the heat death of the universe.
Pohl's recent novels weren't stellar. A collaboration with Arthur C Clarke, The Last Theorem, was not a worthy capstone for either man's career. But Pohl's blog proved both popular and insightful, winning him another Hugo award as Best Fan Writer in 2010.
The blog was updated on September 2nd. He died the same day after experiencing respiratory problems.
Pohl's grand-daughter Emily Weary announced the news on Twitter.
Rest in peace to my beloved grandfather Frederik Pohl, who showed me by example how to be an author. 1919-2013. http://t.co/GXP2H1pI72

— Emily Pohl-Weary (@emilypohlweary) September 2, 2013
Pohl is survived by three children, his third wife Elizabeth Ann Hull and several grandchildren. ®