Apple has sent out invitations that confirm rumors it will hold a widely expected event next Tuesday, September 10, at the company's headquarters in Cupertino.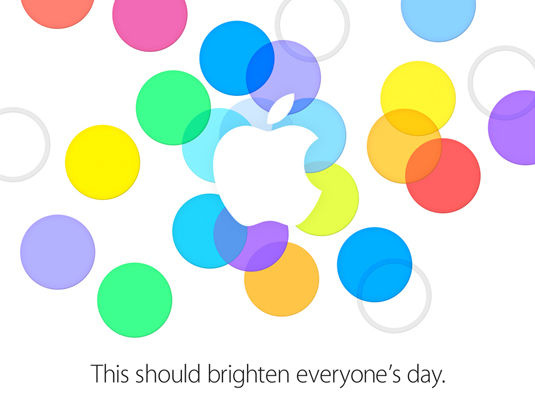 Are those two orange-ish circles actually 'champagne gold'?
Although – true to Apple's übersecretive nature – the invitation is merely a teaser that offers no concrete information as to what will be announced, world+dog have been feverishly predicting the introduction of a new flagship iPhone, said to be called the iPhone 5S, including one golden model, as well as a less-expensive smartphone, said to be called the iPhone 5C and to come in multiple colors.
As veteran Apple-watchers, we now indulge in the traditional tea-leaf reading and/or entrails-of-dove divining, and note that the invitation does, indeed, depict multiple colors, thus supporting the many-hued iPhone 5C rumblings, and that the single line of text, which refers to "everyone's day," might be construed to support the introduction of iPhones for a broader range of customers.
But with Apple, one never knows, does one?
Not everyone's day will be brightened on September 10, however. That day also sees the kick-off of the Intel Developer Forum in San Francisco. And so just as Intel CEO Brian Krzanich and president Renée James are hitting their stride in IDF's opening keynote, Apple CEO Tim Cook will be taking the stage 45 miles south down Highway 101 to announce whatever his minions have been cooking up.
Many an ink-stained news-gatherer is flipping a coin at this very moment – and we're guessing that they're hoping it comes up Apple. Intel keynotes can be such a yawn. ®
Similar topics