This article is more than 1 year old
10,000 app devs SLEEP together in four-day code-chat-drink tech orgy camp
Hey, geeks: Hate the great outdoors? Now you can stay in a tent in a big tent
Pic London's O2 is this week hosting Campus Party - a four-day tech-fest during which as many as 10,000 software developers from across Europe get together for coding, talking and drinking. The marketing people like to call it Glastonbury For Geeks.
Campus Party does have tents – three and a half thousand of them, two geeks to a tent, the rest being day trippers – but that's where the comparison ends. The tents at Campus Party are in regimented rows, and paid for by a sponsor list which includes just about every company your correspondent remembers campaigning against during his own education: Nestlé, Barclays, American Express, and so on.
There are also thousands of developers, the vast majority of whom are too young to remember the corporate sins of the past.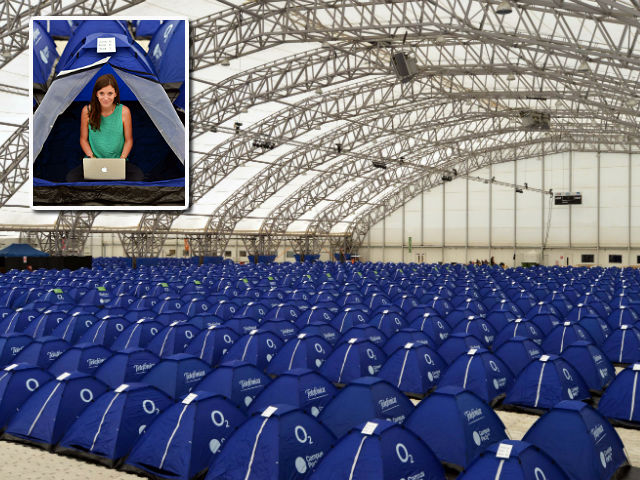 Hm, what's that in-tents smell ... Rows of devs packed in
The biggest sponsor is Telefonica (owner of the O2 brand) whose name appears on every banner and notice board. Telefonica has been sponsoring Campus Party for many years, though few have been involved since its beginning in Spain in 1996. The event moves between European cities every year, though this is its first year in London.
When pushed the organisers admitted that London makes a fine host and there was talk of a permanent home, or at least an annual UK event, at the dome - depending on how the next four days go.
Those who arrived yesterday, the official opening day, will get four days of motivational speeches and technical talks, but they'll have missed Monday night's stage-managed interview session which saw: ex-gadget show presenter Suzi Perry talking to EU Commissioner Neelie Kroes (aka unelected digital tsar Steelie Neelie), who got a round of applause for endorsing net neutrality; and a rep from UK Trade & Investment who told us the British government thinks innovation is important, just like those attending Campus Party; while Telefonica showed a video describing attendees as "unique innovators who dreamt of changing the world."
There was also a performance by beat-box artist Beardyman, who continued the self-congratulatory tone by telling the audience they were the most intelligent he'd ever met, something which, by this point, some of them were starting to believe. These people think they can change the world with a few lines of JavaScript – but perhaps they should.
It's hard not to get swept up in the optimism, and to remind oneself that computer programmers aren't (necessarily) the social outcasts they once were. The lack of female geeks was mentioned several times in the opening ceremony, and Thursday sees an entire seminar stream devoted to the subject, but those who've been in the industry for a decade or two might be surprised to see the event isn't entirely dominated by men. It's a long way from being equal, but it is changing.
10,000 geeks in regimented tents under a concrete sky might not be Glastonbury for Geeks, but in honesty it probably stands a greater chance of making the world a better place than any music festival – even if it has to work one build-time error at a time. ®