You must be croaking! Boffins reveal sound-gobbling frog's secret
Why earless creature has to gulp down fellow amphibians' jibber-jabber
Pic Bioboffins have figured out how one of the world's smallest amphibians, the centimetre-long Gardiner's frog, can hear other frogs croak despite not having any ears.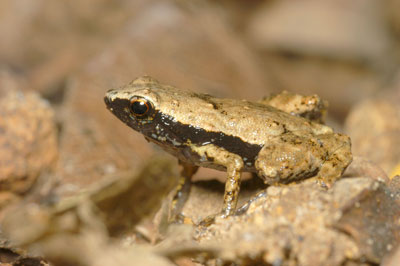 Toad you so ... A Gardiner's frog. Credit: R. Boistel/CNRS
Using X-rays, an international team of scientists have discovered that the frog listens to chat from fellow frogs through its mouth, which transmits sound to its inner ears.
Evolutionarily, many animals hear sound the same way, via a technique that appeared 200 million to 250 million years ago in the Triassic period. Most four-legged animals have a middle ear with eardrum and ossicles, which emerged independently in major species.
But some, like frogs, don't have an outer ear, but have instead a middle ear with an eardrum on top of their heads. Incoming sound waves makes the drum vibrate and these vibrations travel to the inner ear via the ossicles, where tiny hairs translate them into electric signals sent to the brain.
However, Gardiner's frogs, which have been secluded in the rainforest of the Seychelles for millions of years, have no such middle ear but continue to croak. Without a middle ear, the species should be deaf, since the skin reflects 99.9 per cent of incoming sound waves.
"These small animals have been living isolated in the rainforest of the Seychelles for 47 to 65 million years, since these islands split away from the main continent. If they can hear, their auditory system must be a survivor of life forms on the ancient supercontinent Gondwana," said Renaud Boistel from the University of Poitiers and Centre national de la recherche scientifique (CNRS).
To ensure that the frogs were actually hearing each other and not just croaking for the hell of it, the boffins set up loudspeakers in their natural habitat and broadcast frog songs, which caused the males to answer. The team then set about trying to discover how sound was getting to their inner ears, exploring theories such as lung, muscle or bone conduction.
"Whether body tissue will transport sound or not depends on its biomechanical properties. With X-ray imaging techniques here at the ESRF, we could establish that neither the pulmonary system nor the muscles of these frogs contribute significantly to the transmission of sound to the inner ears", says Peter Cloetens, a scientist at the ESRF who took part in the study.
"As these animals are tiny, just one centimetre long, we needed X-ray images of the soft tissue and the bony parts with micrometric resolution to determine which body parts contribute to sound propagation."
The data helped the boffins come up with a new hypothesis: that the sound was coming in through the frogs' mouths. Their mouths act like an amplifier for the frequencies emitted by the species and a reduced thickness of the tissue between the mouth and inner ear and smaller number of tissue layers allows the sound to get through.
"The combination of a mouth cavity and bone conduction allows Gardiner's frogs to perceive sound effectively without use of a tympanic middle ear," Boistel said. ®