If you were expecting Chipzilla to keep its server-chip powder dry until its Intel Developer Forum next week, surprise! It looks like Intel is going to jump the gun and get its "Avoton" Atom server chips into the field this Wednesday, as you can see from this announcement preview that Intel sent out to press and analysts over the Labor Day holiday in the States: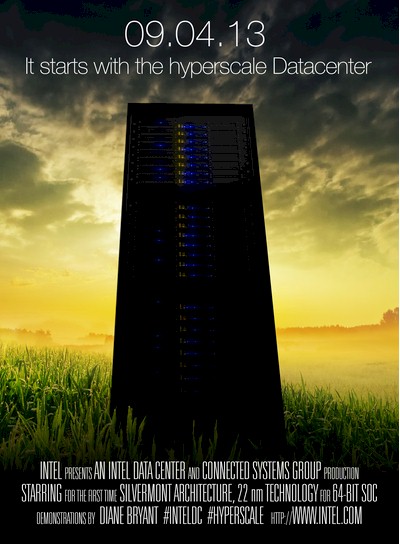 2013, A Microserver Odyssey
With all of the talk about 64-bit ARM processors coming to data center-class servers later this year and early next year, Intel has not been shy about divulging some of the details behind the Avoton Atom chips. It has to fight fire with gasoline.
Back in April, Intel said that Avoton and a related processor aimed at network devices called "Rangely" could come out in the second half of this year and would be based on the "Silvermont" architecture and etched using the company's best 22-nanometer fabrication techniques. That's a big shrink from the 32nm processes used to create the dual-core "Centerton" Atom S1200 processors, and the smaller circuitry is what is allowing Intel to boost the core count on Avoton to eight and also weaving in Ethernet network interfaces.
Avoton is a radically better chip than Centerton, and one that everyone in Server Land knew was coming. Thus the Centerton never really had much of a chance to be sold in high volumes.
In July, at a big data center shindig hosted by Diane Bryant, general manager of its Data Center and Connected Systems Group, Intel revealed that it would slap the C2000 brand on its second-generation of 64-bit Atom server chips. The company confirmed that the chip would have eight cores and deliver up to seven times the oomph, up to four times the performance per watt, and up to eight times the memory (at 64GB) as its Centerton predecessor. The Avoton chip also sports four 1Gb/sec Ethernet ports on the die, plus six SATA ports and a cryptographic processor.
Not surprisingly – and despite the hubbub surrounding 64-bit ARM server chips these days – the company has been able to rack up (literally and figuratively) 2.5 times the design wins for Avoton and Rangely as it was able to gin up for Centerton. (That is 50 design wins as of the end of July compared to 20 for Centerton.)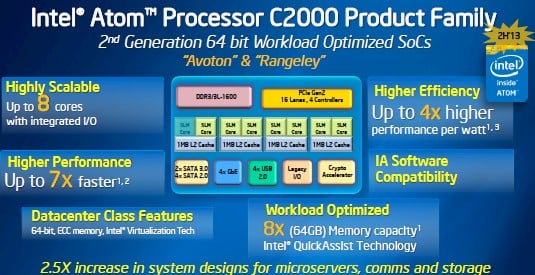 Block diagram of the 'Avoton' Atom server processor
So, we are waiting on the SKUs with their different clock speeds, core counts, and cache sizes, as well as the thermals, performance data, and pricing. And, of course, the sales pitch – which Bryant and her team will no doubt be very happy to reveal.
And just in case you think Intel is not serious about taking on the ARM collective in the data center and making Atom chips a peer to Xeons, the company is going to deliver a future Atom server chip called "Denverton" next year based on its 14nm process, and a variant of the "Broadwell" Core/Xeon processor also in 14nm tech and in a system-on-chip design that puts everything – processing, networking, and peripheral controllers – all on the same package. This Broadwell SoC will be more appropriate for certain kinds of data center workloads than a regular Broadwell Xeon E3-class processor, which Intel will also make.
This is going to be a good and protracted fight between Intel and the ARM collective. And that is good for customers, even if it may not be good for those trying to make money designing and etching chips. ®