iPhone rises, Android slips in US, UK
The big surprise: Windows Phone bagging smartphone newbies
---
Apple's iPhone is gaining market share in the US and UK, while smartphones based on Google's Android operating system – which continue to lead all smartphones in both markets – see their share slipping.
According to the latest report from the market-watchers at Kantar Worldpanel ComTech, in the three months ending in July of this year, sales of smartphones running Apple's iOS rose 7.8 per cent in both the US and the UK, compared with the same period last year. Sales of Android-based phones, on the other hand, sunk 7.6 per cent in the US and 3.8 per cent in the UK.
Despite that slippage, however, Android phones still hold a 51.5 per cent sales share in the US and a 55.2 per cent share in the UK.
Still, the iPhone growth is surprising, considering that iPhone sales have historically stalled in the period leading up to the release of a new Cupertinian handset – an event that the consensus opinion holds will occur next Tuesday.
What surprised Kantar Worldpanel ComTech's Dominic Sunnebo, however, was the performance of a third smartphone operating system:
Android and Apple take the lion's share of the headlines and continue to dominate smartphone sales, so it's easy to forget that there is a third operating system emerging as a real adversary. Windows Phone, driven largely by lower priced Nokia smartphones such as the Lumia 520, now represents around one in 10 smartphone sales in Britain, France, Germany and Mexico. For the first time the platform has claimed the number two spot in a major world market, taking 11.6% of sales in Mexico.
That growth in Windows Phone uptake is certainly not fueled by any significant sales surge in the US, where Microsoft's OS rose a meager 0.5 per cent year-on-year, from 3.0 to 3.5 per cent. Windows Phone was far more more successful in the UK, where sales more than doubled from 4.5 per cent to 9.2 per cent.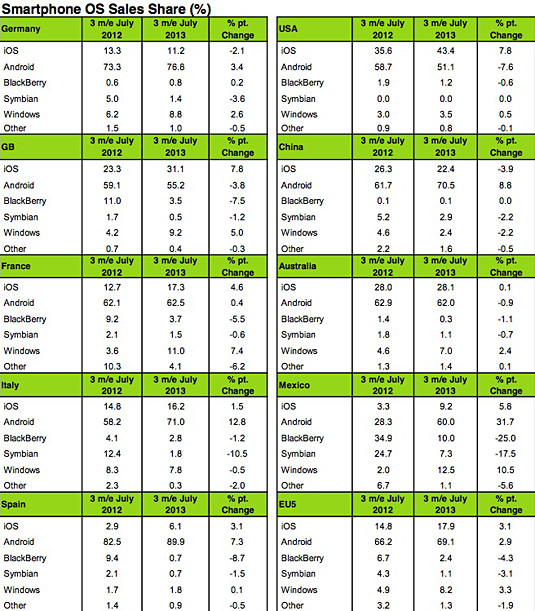 iOS chases world-leader Android as BlackBerry sinks into oblivion (source: Kantar Worldpanel ComTech)
As Sunnebo explained, "Windows Phone's success has been in convincing first time smartphone buyers to choose one of its devices with 42% of sales over the past year coming from existing featurephone owners. This is a much higher proportion than Android and iOS."
Significantly, although iOS's share rose in most markets, its slippage was greatest in a market near and dear to Apple CEO Tim Cook's heart: China, where it dipped 3.9 per cent, year-on-year.
During Apple's most recent fiscal quarter, as Cook noted on a conference call discussing that quarter's financial results, revenues from the Chinese market account for around 14 per cent of Apple's global take. "I continue to believe that in the arc of time, here, China is a huge opportunity for Apple," he said at the time, "and I don't get discouraged over a 90-day kind of cycle."
The 90-day cycle to which Cook was referring included two of the three months surveyed by Kantar. The 90-day cycle that will be worth keeping one's eye on will be Apple's first fiscal quarter of 2014, which runs from October through December of this year. That will be the quarter – if rumors are correct – that will include sales of the lower-cost "iPhone 5C", a device aimed more at emerging markets such as China than it will be at more-affluent markets such as the US and the UK.
As for Windows Phone, it's slipping in China as well, according to Kantar. It remains to be seen whether future Microsoft CEO returning Microsoft employee Stephen Elop can turn that market around, or whether Android-based smartphones will continue to increase their 70.5 per cent share in the Middle Kingdom. ®