This article is more than 1 year old
Microsoft buys Nokia's mobile business
€5.44bn deal covers devices, patents, manufacturing and services
Updated Microsoft has announced it is buying Nokia's mobile devices and services business.
Revealed in a flurry of press releases in the small hours of Tuesday, the deal will see Microsoft "pay EUR 3.79 billion to purchase substantially all of Nokia's Devices & Services business, and EUR 1.65 billion to license Nokia's patents, for a total transaction price of EUR 5.44 billion in cash." Microsoft will also inherit Nokia's "long-term patent licensing agreement with Qualcomm, as well as other licensing agreements."
Those quotes come from Microsoft's main press release announcing the transaction, which says Redmond "will draw upon its overseas cash resources to fund the transaction". The deal is expected to close in 2014's first quarter subject to the usual scrutiny from shareholder and regulators.
There seems to be little chance that Nokia shareholders will object, as the company's own announcement features Nokia chair Risto Siilasmaa saying: "After a thorough assessment of how to maximize shareholder value, including consideration of a variety of alternatives, we believe this transaction is the best path forward for Nokia and its shareholders."
In other words, there's no likelihood of a better offer. Ever.
Both statements say: "Microsoft will acquire substantially all of Nokia's Devices and Services business, including the Mobile Phones and Smart Devices business units as well as an industry-leading design team, operations including all Nokia Devices & Services-related production facilities, Devices & Services-related sales and marketing activities, and related support functions."
The Lumia range is therefore now Microsoft's and 32,0000 Nokia employees will become Redmondians.
One of those is Stephen Elop, who Nokia says "is stepping aside as Nokia President and CEO to become Nokia Executive Vice President of Devices & Services". He will return to Microsoft, according to an all-hands email penned by Steve Ballmer that says Microsoft's partnership with Nokia has gone so well that "now is the time to build on this momentum and accelerate our share and profits in phones."
Ballmer goes on to explain just how the integrated companies will work, at some length. We'll therefore summarise the ten points he offers as follows:
Stephen Elop will return to Microsoft to "lead an expanded Devices team, which includes all of our current Devices and Studios work and most of the teams coming over from Nokia, reporting to me." XBOX and Surface head Julie Larson-Green will eventually report to Elop.
Key Nokia big brains Jo Harlow, Timo Toikkanen, Stefan Pannenbecker and Juha Putkiranta will stay and report to Elop.
Expect little change to the Windows Phone development team
Expect future layoffs in finance, legal, HR, commms, evangelism, customer service, sourcing and business development, as all are mentioned as ripe for future "integration".
People won't be moved around the worlds. Finns get to enjoy Finland's great weather instead of Seattle's!
Elop also appears as co-author, with Ballmer, in a post on Official Microsoft Blog.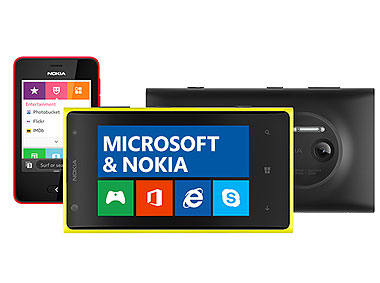 Microsoft's graphic artists have already been hard at work
The post is the usual saccharine tat, opening with: "Today marks a moment of reinvention", but going on to offer the following:
With the commitment and resources of Microsoft to take Nokia's devices and services forward, we can now realize the full potential of the Windows ecosystem, providing the most compelling experiences for people at home, at work and everywhere in between.

We will continue to build the mobile phones you've come to love, while investing in the future – new phones and services that combine the best of Microsoft and the best of Nokia.

Nokia and Microsoft are committed to the next chapter.

Together, we will redefine the boundaries of mobility.
Microsoft's leader of engineering for Windows Phone, Terry Myerson, has also posted, reassuring mobe-makers that buying Nokia doesn't mean Microsoft will play favorites.
"We look forward to building new products together that will provide valuable business opportunity for the ecosystem and enable OEMs to deliver huge value to their customers, from consumers to the largest enterprise," he writes.
Reaction
Vulture South's Richard Chirgwin is, by happy accident, attending Microsoft's TechEd Australia at the time of writing, and reports the news came as an utter surprise to Microsoft staff. Those he spoke to have not been briefed and have as much information on the transaction as anyone capable of sifting through the myriad documents we've linked to above.
Analysts have had time to start digesting the news.
Here's a tweet from Carolina Milanesi, a consumer devices analyst at Gartner.
Today's news puts at rest doubts expressed by some that Microsoft would walk away fm smartphones. If this isn't commitment not sure what is?

— carolina milanesi (@caro_milanesi) September 3, 2013
Bryan Ma, an IDC assistant veep for client devices research told The Reg's man in Hong Kong Phil Muncaster "My concern is that as much as this deal can help Microsoft jump start into the hardware space, it can't help solve its biggest issue facing Windows Phone and Windows 8 on tablets and PCs and that is it doesn't have enough apps to make a compelling platform."
"It's certainly not an easy problem to solve when the two other ecosystem players are so dominant. From a Nokia perspective we could even argue whether or not it would have made more sense to go Android."
Muncaster also reached Rachel Lashford, a Canalys veep and analyst, who said the transaction represents "a major step by Microsoft in terms of finally showing how important the smartphone market is in order for it to grow and it's about Microsoft becoming a hardware vendor."
Lashford added the following:
"At the moment, traditional PC vendors must be pretty unhappy with this, already demonstrated by the fact vendors like HP are investing more towards Android.

Microsoft must bring Skype, Office, Xbox Live, Bing, Skydrive to mobile as it's not been very successful doing this via its OEM license business.

Microsoft imagines it can accelerate the market by growing the market itself and it could help it be quicker to market because it has software and hardware development in-house now.

But if you think back to Google when it acquired Motorola, the Android market was already well established so while it was a threat, the OEM business was already established. But the challenge here is that OEMs will be going head to head with Microsoft. I think it will create a lot of confusion. It reminds me of a decade ago when Nokia had Symbian and it was trying to license it out but it didn't work out."
Lashford also said "Nokia has a very solid part of its business left" and she's right. Nokia's statement says it now "plans to focus on its three established businesses, each of which is a leader in enabling mobility in its respective market segment: NSN, a leader in network infrastructure and services; HERE, a leader in mapping and location services; and Advanced Technologies, a leader in technology development and licensing."
Nokia also says the operations that are planned to be transferred to Microsoft "generated an estimated EUR 14.9 billion, or almost 50%, of Nokia's net sales for the full year 2012." The remaining rump of the company therefore remains a very significant entity - there aren't that many organisations with around 15 billion euros a year of revenue. Nokia therefore remains a force, albeit a force that's removed itself from the mucky and expensive business of selling to consumers.
Microsoft, of course, has a mixed track record selling to consumers beyond Windows and Office. Surface has flopped. Vulture South visited a Microsoft store in San Francisco last week and found it was (a) mostly empty and (b) an embarrassing homage to Apple Stores.
Nokia does bring Microsoft massive upgrade potential in the developing world, where the Finnish concern retains hundreds of millions of customers. If Microsoft can wean those folks off their feature phones and into the Windows ecosystem, there's upside galore to be had from this transaction and the €5.44bn price tag will look like peanuts. ®