This article is more than 1 year old
Microsoft's $7.1bn Nokia gobble: Why you should expect the unexpected
Lumias, Elop, Windows Phone 8, yes... but patently, it's about patents
Analysis With Microsoft's purchase of Nokia's mobile business for $7.1bn, the Redmond software giant has finally become a phone and device maker.
The deal gives Microsoft Nokia's global handset engineering, manufacturing, sales and distribution business; the family of Windows-Phone-powered Lumia smartphones; a war chest of 8,500 Lumia and Asha phone patents while licensing 30,000 utility patents; and a standing army of 32,000 Nokia employees. The deal is expected to close in the first quarter of 2014.
Interestingly, it's not Microsoft's biggest purchase: it's second to the $8.2bn purchase of loss-making internet chat biz Skype in 2011.
The Nokia acquisition also potentially gives Microsoft its next chief executive officer: Nokia boss Stephen Elop who was once a senior suit in Redmond.
Announcing the deal on Monday night, outgoing Microsoft CEO Steve Ballmer called it a "bold step into the future". Nokia has talent in hardware design and engineering, supply chain and manufacturing management, sales, marketing and distribution, Ballmer told his employees.
Selling the deal, the shy and retiring boss reckoned it was time to accelerate Microsoft's share and profits in the world of mobiles. (Windows Phone has 3.3 per cent of the global smartphone market, according to IDC.)
Increasing phones sales and market share, pumping out better handsets - this is the promise we're being sold. But chances are Microsoft won't get what it expects.
Microsoft could certainly use Nokia's engineering and design smarts. It was Nokia that complained Microsoft is moving too slowly on issuing Windows Phone 8 updates - that it was still working on release cycles more appropriate to a maker of PCs than one producing consumer electronics.
The only question is why Microsoft waited so long. The Nokia-Microsoft platform partnership, in which Nokia dumped Linux and Symbian for Windows Phone, was formed two years ago. Now, it's been decided having separate companies wasn't working.
The movers and shakers
Joining Microsoft will be Nokia's CEO Elop, who'll be taking over a devices division that's just been reorganised and expanded.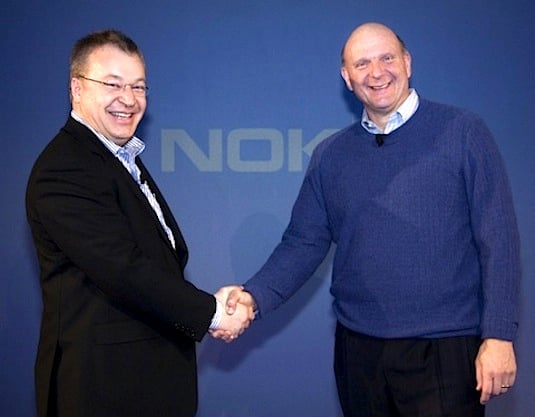 Right with you buddy ... Nokia chief Stephen Elop, left, with Steve Ballmer, now retiring
To maintain continuity, the old Nokia heads remain: Jo Harlow will continue to lead Nokia's Smart Devices; Timo Toikkanen will remain in place leading the Mobile Phones division; and Stefan Pannenbecker will run the design teams. All will report to Elop.
Post acquisition, field sales will come under the remit of Microsoft chief operating officer Kevin Turner. Touting Nokia and Microsoft will be the job of Redmond's marketing executive veep Tami Reller and ads chief Mark Penn - the latter was once Hillary Clinton's campaign manager and the individual responsible for Microsoft's Scroogled ads.
So, Ballmer's empire gets a massive phone design, manufacturing and sales operation, but it also gets a loss-making handset maker with plummeting market share - 15 per cent today versus 37 per cent in 2007 on the eve of the launch of Apple's iPhone. Nokia lost $150m despite growing sales of smartphones in its latest financial quarter.
This means that once the deal settles, moneybags Microsoft will need to trim its head count. Under the deal, 32,000 employees are coming to Microsoft - that's one third of Microsoft's current number of workers. The Windows maker has struggled to cut staff numbers in recent years to maintain profitability, and keeping everybody from a loss-making phone maker won't help.
Engineers are likely safe; there are at least 18,300 Nokians on the product manufacturing, assembly and packaging lines. Also, Nokia's field sales will be safe: these are the people selling the Finnish phones to network operators. It'll be mid-level managers and marketing that go.