The "Avoton" Atoms for servers and storage arrays and their "Rangeley" variants for networking devices are out and Intel is ramping up the features and carving up the SKUs to try to chase the low end of servers, storage, and networking to take some business away from other chip makers.
Does Intel have what it takes to upset the hegemony of Power and MIPS and take on upstart ARM suppliers? Can it capture these new workloads or catch them with Atom as companies jump off Xeon or Opterons for cheaper, lower-powered processors?
Intel certainly thinks so and the company believes that the new Atom C2000 series chips demonstrate its commitment to move away from general purpose computing and toward silicon that is more tailored to fit specific workloads.
"What we have seen is the emergence of new applications at the low-end of compute, applications that are lightweight applications," explained Diane Bryant, general manager of Intel's Data Center and Connected Systems Group in the launch for the Atom C2000s at an event in San Francisco on Wednesday.
As an example, Bryant trotted out Memcached, which is an in-memory caching layer that companies put on servers between their web and database tiers to speed up the performance of dynamic web applications. Memcached needs memory, but is not so heavy on the compute and scales well across many nodes so it is appropriate for microservers.
Cold storage, Bryant said, is another emerging workload where chips like the Atom C2000 can play well. In this case, you need a fairly modest amount of compute with lots of disk storage attached to the node, which is often running in a very low power state.
Cold storage, like that which Facebook created itself using Xeon processors, is designed to have a very low power draw, cost less than a traditional JBOD array, and have very high capacity. Facebook stores 300 million photos each day, and it has to keep them online forever for its users.
But only 8 per cent of the photos that those billion-plus users of Facebook put onto its systems are ever accessed again once they are uploaded. If the social network put those pictures on traditional disks, it would never make a profit.
In the networking arena, where Intel has been eager to eat market share for many years, devices often need "good enough" performance, explained Bryant, but they also need integration of components, high density, and more aggressive thermal specs.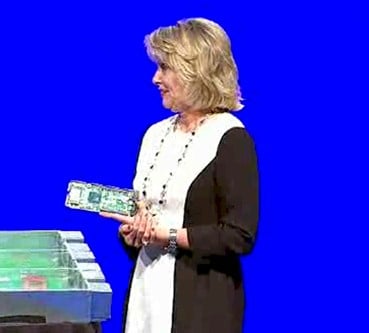 Data Center GM Diane Bryant and an Avoton microserver
"There is an opportunity to target these lightweight workloads with clear, optimized infrastructure," said Bryant, who added that Intel is moving from a supplier of general-purpose CPUs to a maker of optimized system-on-chip devices that put all kinds of stuff on the chip that would in the past have been out on the package or the motherboard. And, this targeting also includes dialing up and down the core count, accelerators, I/O, thermals, reliability levels, and other features on the Atom SoC as needed for specific customers and for precise price points.
Bryant characterized the opportunity addressed by the Atom C2000 chips as a "multi-billion entry server market," and was obviously talking about dollars there, not units. When pressed for a more precise characterization of that market during the question and answer session, particularly for microservers, which have not exactly taken the market by storm after three years of lots of talk, Bryant did a little dancing.
And she reminded everyone that microservers in particular include both Xeon and Atom processors, and will for the foreseeable future since some customers need brawnier cores for their workloads than even the new Silvermont Atom cores.
"We still believe it is a small market," Bryant said of microservers, and the pun there is obvious so have at it. "We absolutely want to target it. What is additionally important in the announcements that we have made today is that there are workloads that are low compute that extend beyond microservers – low-end storage needs, low-end networking needs. This is an area, particularly in networks, where we haven't had the reach."
So, Power, MIPS, and other "proprietary" chips, as Intel collectively calls anything that does not have an x86 instruction set (as if Chipzilla didn't own that), look out.
Can Intel make money peddling puny processors? Bryant was not going to open the books for us, but she was clear, as other Intel executives have been in the past. "We have done the numbers, and it is a wash," said Bryant. "We are happy to sell high-end Xeons, and we are happy to sell Atom SoCs. It's a wash."
And, Intel's partners are lining up to try to peddle Atom C2000s in their various wares as well. The dual-core "Centerton" S1200 Atom server chips announced nine months ago had 20 design wins, and thus far Avoton and Rangeley have racked up 51.
There are 11 different microserver designs coming out from nine server makers, according to Bryant, 11 brand new cold storage arrays that will also use the chips. Intel has partners who have created 27 different network devices using the Atom C2000s, and ten of them involve conversions from other chips.
Super Micro is also launching an SMB server based on the Atom C2000 and Tyan has created a storage array aimed at SMB customers based on the chip. That's 51 in total. Different variants of the C2000 are aimed at specific workloads, thus: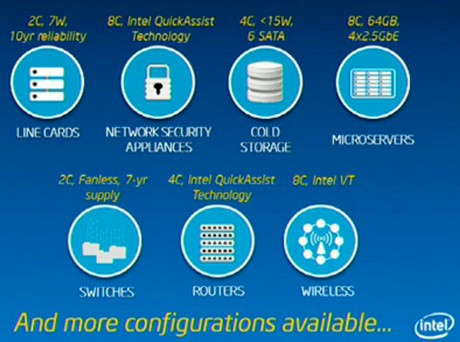 Lining up an Atom C2000 SKU to a device in a market
Telecom gear maker Ericsson is one of those customers, and will be using the Atom C2000s in its blade switches. The company has been a partner with Intel for the past seven years, moving chunks of its equipment over to Core and Xeon processors and while also ditching various operating systems for Linux. And having instruction set compatibility is a big deal for Ericsson.
And that is one reason that ARM, Power, MIPS, and other chip architectures are going to have some trouble with an Intel being pushy in the networking space with raw processing to run network applications and Ethernet and InfiniBand ASICs for switches and network interface logic for devices that hook into the switches.
At the moment, there are no 64-bit ARM server chips that are shipping, so making comparisons here is a bit dubious. And Jason Waxman, general manager of the Cloud Platforms Group within the Data Center and Connected Systems Group, was understandably pretty vague about where the Atom C2000s stack up against 32-bit and 40-bit ARM chips that are available today and the 64-bit ARM chips that are coming onto the market late this year and early next.
"We think that for the category – which is the power efficient, entry microserver space, networking, and cold storage – from a performance standpoint and an energy efficiency standpoint, it's best in class," said Waxman.
"That is not, by the way, the only thing that people care about. They also care about all of the enterprise feature sets, which we think we have completely delivered on, and also compatibility with their software. So we are pretty confident about its competitive position versus alternatives." ®
Sponsored: Webcast: Simplify data protection on AWS