It's all go at the Special Projects Bureau's mountaintop headquarters as we await the imminent delivery of our Low Orbit Helium Assisted Navigator (LOHAN) Vulture 2 spaceplane, currently being hewn from the living nylon down at 3T RPD Ltd.
We've got plenty to be getting on with while we wait for the bloke in the big white delivery van to roll up to the door, and we're still fettling the aircraft's fantastical flying truss launch platform. As part of that process, we're pondering just how to mount a mighty imaging arsenal, which includes main cameras, back-ups and back-ups for the back-ups.
Yup, we're not going to all this trouble if we aren't packing a rack of camera kit, and here it is: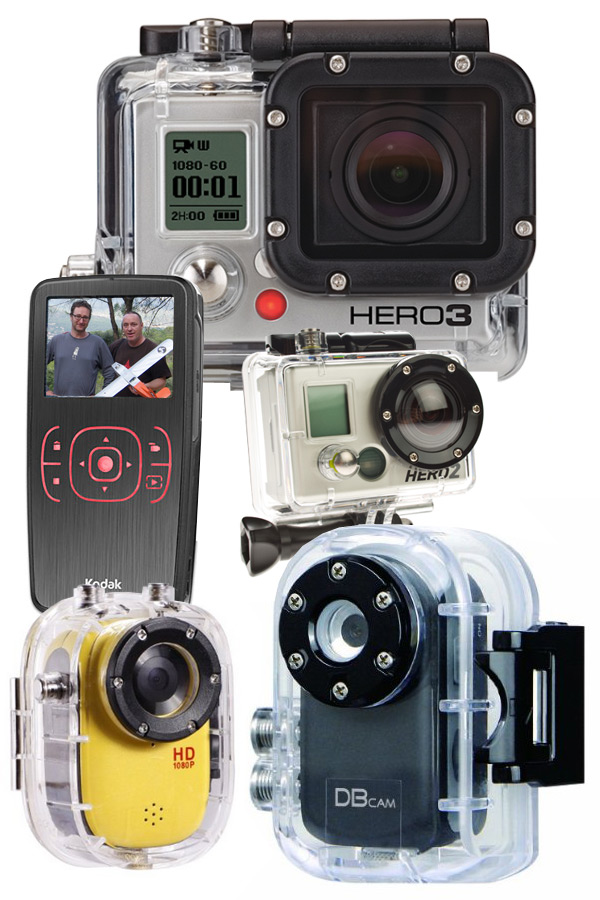 Clockwise from top, we have:
GoPro HERO3 with Battery BacPac and skeleton back - 11MP sensor, 1080p ultra wide. 32GB SD card.
GoPro HERO2 with Battery BacPac and skeleton back - 11MP sensor, 1080p ultra wide. 32GB SD card.
DBcam Hi-Resolution Micro Action Sports Video Camera - 640x480 maximum resolution. Built-in battery, 16GB SD card
Electronics-Depot HD1080P - 12MP sensor, 1920x1080px resolution. Built-in battery, 32GB SD card.
Kodak Zx1 - 1.6MP sensor, 720p resolution. Two Energizer Lithium Ultra AA batteries, 32GB SD card.
Working through the list, we'll kick off by noting we had a bit of trouble with the HERO3 on our Special Project Electronic Altitude Release System (SPEARS) control board test flight - AKA the Covert High Altitude Vehicle (CHAV) mission - back in July.
The camera clapped out after an hour, despite the extra battery power, and we suspect it caught a nasty chill. For high-altitude operation, it's necessary to use the skeleton back to avoid misting inside the case, and that probably proved a little too much exposure for the "Battery BacPac".
Nonetheless, the camera did grab some impressive footage before giving up the ghost:
We're going to add a bit of insulation to the HERO3, but aren't relying on it as our main camera. That honour falls to the HERO2, which has proved itself resistant to the cold on previous flights.
The DBcam Hi-Resolution Micro Action Sports Video Camera and Electronics-Depot HD1080P are as yet untested, and exact technical details are hard to come by. They're both compact, budget cameras which have attracted positive reviews online, so they'll do as a back up and back-up back-up. We'll need to drill holes in the cases to avert the aforementioned misting.
Our dear old Kodak Zx1 is, long-term readers will recall, a veteran of our Paper Aircraft Released Into Space (PARIS) mission, and captured the moment our Vulture 1 flew into the history books:
PARIS also packed a Canon A560 PowerShot...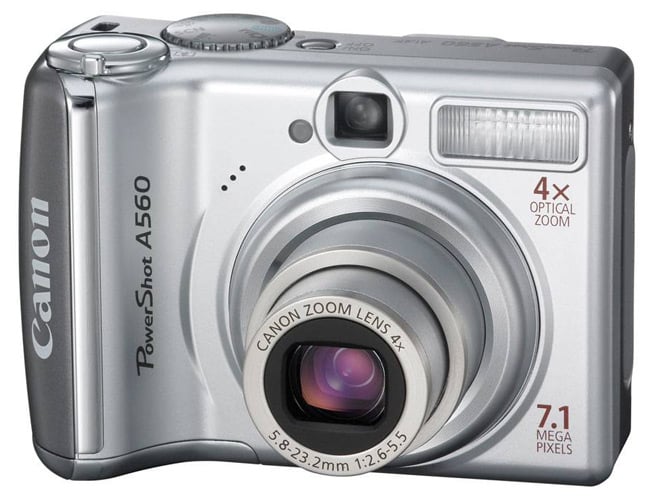 ...hacked with the Canon Hack Development Kit to run an intervalometer script:
LOHAN team member Dave Akerman has a similarly-hacked Canon A480, which he used to capture our SPEARS test flight launch in July...
...so either his camera or the A560 will perform a similar duty for LOHAN.
Well, we reckon we've got it covered, and if you throw in some ground-based stills and video coverage of the whole thing, plus a live webcam feed of the launch and pursuit, LOHAN promises to be quite an media experience. Expect video, and lots of it, when the time comes...®
---
Further LOHAN resources:
---