This article is more than 1 year old
Decks and plugs and rock and roll: Tascam CD-A750 cassette and CD combo
I'll give you my tapes when you pry them from my cold, dead hands
Anniversary review The recent El Reg feature on the Compact Cassette's 50th birthday had many a reader commenting on some of the format's former glories. Names mentioned among the dewy-eyed included Aiwa (a favourite in UK studios) and the audiophiles' choice, Nakamichi, with both producing state-of-the-art recorders with three heads and a lot more besides.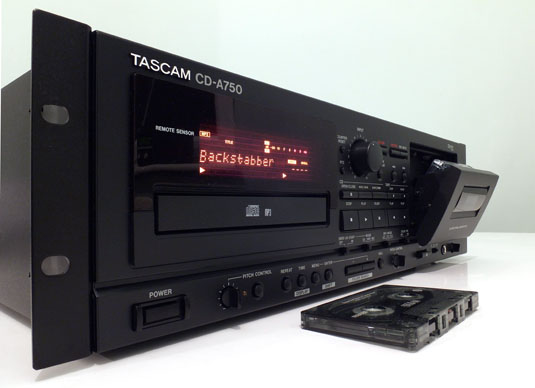 Winning combination? Tascam's CD-A750 compact cassette deck and CD player
Admittedly, these days, the format is as good as dead, but with so much material recorded on cassette, there remains a need to be able to play the content even if it is just to transfer it to a digital format. A few companies continue to supply cassette recorders in various guises from pocket friendly cassette-to-USB gadgets for 20 quid or less to rather more sophisticated offerings for a good deal more.
Teac makes some interesting models that have a CD-writer and cassette combo, but one of the shortcomings that rears its ugly head here is that only audio CDs can be used for recording. Not all CDs are created equal, and the writeable audio version is effectively tagged as OK for Hi-Fi use, and costs more - an indiscriminate copy tax. The Tascam CC222SL mkII is more forgiving, but to use any writable CD, you have to pay for the privilege – it's £879.
So rather than get all hot and bothered about that money grabbing legacy of the Audio Home Recording Act (AHRA), a purist approach seemed appropriate. Forget the CD burning, let's focus on the cassette recorder itself. And as it happens that decent models tend to be paired with optical drives, what we have here with the Tascam CD-A750 is a player that doesn't make a fuss about CD formats and will play whatever you stuff into it, including MP3 discs.
Tascam, the Teac professional division, does endeavour to show some studio credibility with the CD-A750. This model looks the part with its rack mounting ears and a peek around the back reveals XLR connectors for +4dBu professional balanced line level interfacing. It also features RS-232 and parallel connectivity, for a range of machine control options that go beyond the infrared handheld remote supplied with the unit.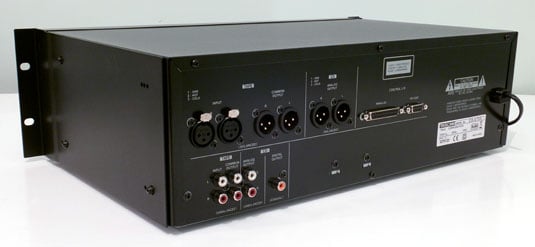 Rack mountable with balanced XLR audio connectors plus RS-232 and parallel control capability
It's this attention to detail that is likely to see this model installed for education, galleries and even boardroom purposes so that slick operation from something like a Crestron or Extron control panel can be enabled.
Would you really want to go to these lengths for cassette use though? Well, maybe CD playback would be the more obvious choice, but if you were busy transferring copious quantities of cassette content for repurposing on digital media, then hooking up some kind of machine control from your digital audio workstation is going to be favourable to pinkie prodding panel games or waving a remote around.
Tascam provides detailed information on how to get the RS-232 side of things all up and running here, with the owner's manual outlining parallel port use. The latter has tally options – a feature which enables remote status lights to be configured in the setup. So that's some of the quirky stuff the CD-A750 has available, what else?
Quiet times
As far as the cassette deck is concerned, personally, it's disappointing to see only Dolby B supported here. Yes, it was the most widely used noise reduction system and dominated Musicassette duplication. Still, Dolby C, which if memory serves me right never appeared on mass produced titles, nevertheless became a feature on all decent hi-fi decks and, being an improved system, was used by many taping enthusiasts. OK, so I have a load of stuff with it on and I'm sure I'm not alone. Dolby B can be used for Dolby C playback instead, but isn't ideal.
Alas, there's no escaping the fact that this deck doesn't match the technical prowess of a bygone era. You won't find three heads here – record (sync), playback and erase – just the usual doubling up of record and playback duties on the one head with an erase head too, of course. Also, Metal tapes can only be replayed, not recorded, which seems a bit remiss.
For chromium dioxide tapes, the frequency response figures in the manual quote 50Hz~12.5kHz ±3dB. Maybe I've spent too long in the digital domain but this doesn't look very impressive. A nose at the spec of the Tascam 122 mkIII, a stalwart studio offering from yesteryear, shows similar output variations yet a vastly improved frequency response: 25Hz~19kHz ±3dB with a CrO2 tape.

Hero of the age: Tascam's 122 mkIII compact cassette deck was pretty much an industry standard in studios
It's an interesting comparison because there are similar remote and professional audio interfacing options on this old model and it also scores highly with its flutter spec. This measurement determines how reliable the playback speed is and how prone it is to minor variations – in effect, frequency modulation.
On the old 122 mkIII, flutter is down to 0.04% whereas the CD-A750 clocks up a mildly seasick 0.25%. Much above 0.3% and people start to notice, and 0.4% was the limit specified by Philips 50 years ago, so this figure gives the impression that Tascam isn't trying very hard here.