This article is more than 1 year old
Decks and plugs and rock and roll: Tascam CD-A750 cassette and CD combo
I'll give you my tapes when you pry them from my cold, dead hands
The analogue age
That said, unless you've an audiophile collection of tapes and a dead deck of repute to replace, these spec differences aren't going to be too obvious, as the chances are the gear the tape recordings were made on in the past didn't fare much better than the CD-A750's deck.
The shocking part is that you might have assumed advances in technology would allow for an improved performance over gear dating back a couple of decades. Yet it seems things are different in the analogue domain and that the digital distillation that makes things smaller, faster, cheaper and better doesn't apply here.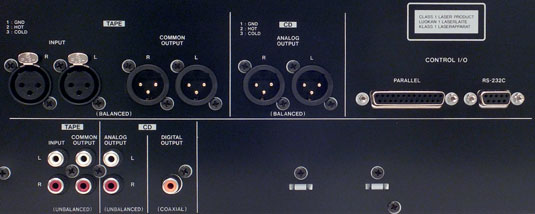 A solitary coaxial digital output delivers CD audio to other digital devices
I might be being a tad ungenerous here, but it would appear that Tascam has bolted on a budget deck to a half-decent CD player and consequently potential buyers assume this is the mutt's nuts, as it includes pro audio analogue interfacing and some remote control functions. It certainly gives the impression that it's made to be taken seriously, but the model with the best spec Tascam still produces is the double-decked 202mkV and its Teac equivalent, the W-890R. Neither has the XLR connectivity though.
Perhaps this browbeating is a little harsh and a reality check is in order, as the cassette tape is a has-been technology. Those digital boons of better and cheaper only occur on products that are actively being developed and who is busy doing R&D on cassette recorders these days? Any names spring to mind?
If you're thinking of Ion Audio, these products are aimed at format transfer convenience rather than a serious effort for archivists; you won't find Dolby on an Ion deck, just a generic noise reduction function.
So let's ignore the specs at this time and just embrace the fact that you can still buy a brand new, fully functional cassette deck in 2013, that's a fairly recent model too, as Tascam announced the CD-A750 back in 2009.
Basic instinct
In use, it's funny how quickly old habits start to kick in, as I wound back a slightly slack pre-recorded tape with my little finger pressed against the sprocket, without giving it a second thought. Inserted and ready to play, familiar mechanical noises greeted my ears as the tape heads clunked into place.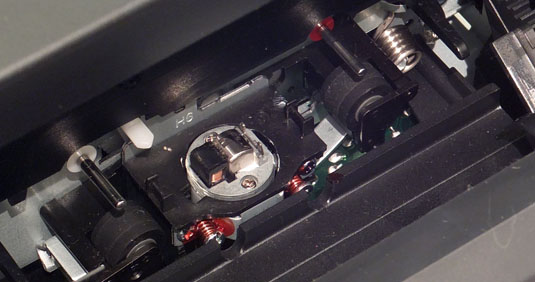 The recorder heads rotate to enable continuous recording when the cassette tape is auto reversed
As for fast-forward and rewind, these functions instantly gathered up any slack with a clack as the spool began whirring away sounding like a muted sewing machine with occasional rattles adding to the mix. You forget how long these tapes take to get from one end to another. A couple of minutes for a C-90 – what did people do with the time?
Playing an aged Musicassette of Roxy Music's Greatest Hits (1972-1975) was a pleasure in itself, and this Dolby B tape still sounded strong even though it had been manufactured at least 20 years ago. It's difficult to make a definitive judgement on performance here because there isn't the source to compare it to. So what I found most striking – a somewhat contained stereo image – may, in part, be a consequence of how it was originally mixed.
Tape noise didn't seem too much of an issue and drop-outs were virtually non-existent. The latter typically experienced when there have been previous tape handling grubbibess or the occasional capstan chew.
Obviously, an easy way to test playback against a source is to do some recording from the CD player and I began with Goldfrapp's Seventh Tree which has its dynamic moments. Again, those instincts kicked in, as I hunted around for the loudest part of the track, checking the metering in order to set recording levels that wouldn't overload and distort on this analogue media.
Here, playback comparisons had a je ne sais quoi about them. A quick and dirty frequency response test using RTA's iPhone app suggested similar levels across the board. It was hardly a scientific analysis and I'd say the definition suffered here, which could be the tape I was using, the recorder or just a consequence of recording on analogue tape and the noise inherent in this process. Indeed, switching from a 'normal' ferric oxide to a chromium dioxide tape was a marked improvement here but still a bit muddy in the mid-range.

The CD player can display MP3 track names and artists
I tested out recording a variety of music being sure to remember to check for levels, listen to song fade outs whilst taping and to press pause just before the next track kicked in. There was a craft to home taping that's definitely been lost, but not easily forgotten if you grew up with it. I did other tests with the recordings, trying them out on my remaining cassette decks – a Philips DCC 900 (digital compact cassette deck) and an old Panasonic RQ-2734 portable from 1976. On both systems, nothing stood out as extraordinary, which is a good thing.