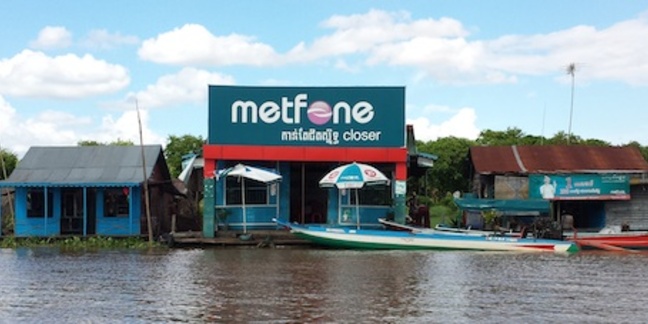 VMware is working on courseware designed to download to and run on mobile phones, as a way of ensuring sysadmins in developing nations can get their hands on the knowledge they need to build virtualised data centres without having to acquire a ruinously expensive PC or leave the bandwidth-poor communities in which they live.
Andrew Dutton, VMware's senior veep and general manager for Asia Pacific & Japan, revealed the plans to The Reg at last week's VMworld 2013 conference in San Francisco. Dutton said the courseware is being developed in response to very rapid growth in emerging nations. Indonesia, Malaysia and Thailand are delivering "triple digit" growth for VMware, albeit off a low base.
Vietnam and Cambodia, he said, "appear to be developing as the offshoring hub for Japan, similar to India's role for Europe," he said. "If you look in [Cambodia's capital city] Pnomh Penh there are big data centres Hitachi is working on."
Across the region the users' biggest problem is finding skilled workers. VMware is responding with courses delivered with tools like Webex, followed by examinations in larger centres.
"That's teriffic," Dutton said, "but you disappoint so many people because you don't realise how many people turn up for these things."
"So we will now release over the next little while – two months – a whole lot of training apps for smartphone and iPad on the basics so that a lot of these people have access to fundamental learnings in packages of an hour, an hour and a half, in local language they can add on to get a baseline and then they can come [to town for an exam] and get base level certification."
"We are trying to address that to get the growth to continue."
Which is all very nice for VMware, but let's also think about this plan in the context of Microsoft's decision to buy Nokia's mobile business.
It's common knowledge that developed nations have all-but turned their backs on Windows Phone. Microsoft says the platform has overtaken Blackberry to become the world's third-most popular mobile operating system, but as any gambler can tell you races with small fields and obscure runners often don't pay a dividend for third place. Redmond can point to nine markets in which Windows Phone has greater than ten per cent market share and just over seven million phone shipped in 2013's second quarter (see slide nine from the deck we analysed yesterday, but with over a million Android devices activated daily it is a long, long way behind the market leader.
But Nokia still has massive traction in the developing world, where its Asha almost-smartphones and feature phones still command considerable market share.
Next, let's consider that VMware is a smart outfit, but almost certainly not smart enough that it's the only company to have come up with the idea of smartphones as the way to do complex things in emerging markets.
Indeed, it's abundantly clear that across developing Asian nations, entrepreneurs are targeting mobile devices as the endpoint they assume most punters will wield, exhibit A being this smart city project in Da Nang, Vietnam.
Just how Microsoft goes from having lots of customers in places where users have little bandwidth and may never use a PC as their main computing device to making a success of its new mobile phone division is anyone's guess.
But if nothing else, VMware's training plans show that online services can mean a lot more than search and personal productivity apps in Nokia's remaining strongholds. ®
Sponsored: Practical tips for Office 365 tenant-to-tenant migration