Wireless technology specialist CSR has come up with the world's thinnest touch keyboard, which is less than 0.5mm thick.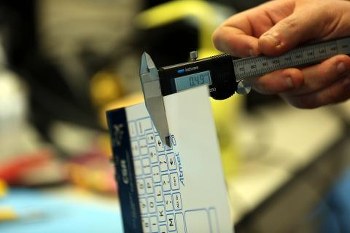 The ultra-thin keyboard
The flexible Bluetooth-capable interface can change any surface into a keyboard or extend the touchscreen of tablets and smartphones, CSR said.
The Cambridge-based company will show off a working prototype of the keyboard at the IFA consumer electronics event in Berlin, but there's no word yet on when a model might be ready to buy.
"Consumers want innovative, portable wireless accessories that just work with their mobile devices," Paul Williamson, director of low power wireless at CSR said in a canned statement.
"The ultra-thin touch surface we've developed is a perfect example of how Bluetooth Smart can give them just that. We're committed to working collaboratively with developers using the CSR µEnergy platform to help them bring similar next-generation accessories to the market quickly."
CSR partnered with Atmel and Conductive Inkjet Technology to develop the paper-thin touch surface. Atmel provided the silicon that can sense multiple contact points while CIT's printing process enables copper and other conductors to be applied to the silicon. ®