This article is more than 1 year old
Campus Party: Did it start Silicon Britain or let 5,000 geeks sleep together?
What went on in all those tents under the O2 dome
Pics This year's Campus Party didn't hit the target of 10,000 geeks in a giant tent - but it did manage half that and showed them how to program a Raspberry Pi and overclock a PC, the nerd equivalent of ballroom dancing while on a cruise ship.
The Pi programming session was overcrowded, with peeps lining up to learn how the diminutive ARM computer interfaces with the real world. Overclocking a PC also attracted quite a crowd. Both of those activities are fun things that would attract any curious techie; one has to wonder, though, whether bods attending the four-day Campus Party are here to develop the digital economy or just have a good time.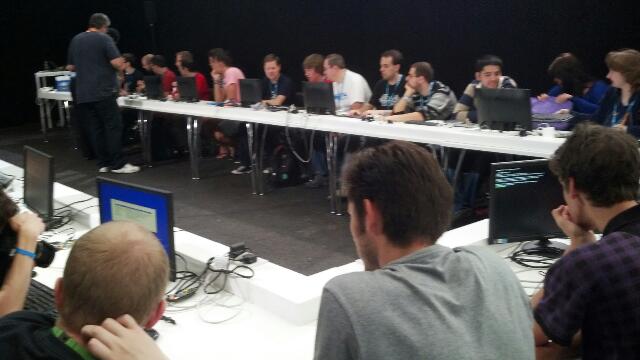 There was quite a crowd watching from outside as there wasn't enough Pi to go around
That's not to say that they can't do both, but for an event that bills itself as a hackathon there's not a lot of coding going on.
O2, which is hosting the party in its London dome, told us that network traffic peaked at 0300 BST, but we'd hesitate to equate packet flow with code creation; computer programming is a pretty solitary occupation, anyway. There's a reason why people with a talent for programming tend to lack social skills, though which comes first is open to debate.
One could, therefore, view Campus Party - which started on Tuesday - as a networking and social event rather than a technology conference, but to hold that up as an example to drive a national economy would be dangerous.
Which is exactly what O2 (aka Telefonica) is doing, putting out a new study that claims the UK will need 745,000 new people with "digital skills" by 2017, though how many of those will be in marketing, we don't know. Telefonica UK's CEO Ronan Dunne is adamant that Campus Party points the way towards a high-tech future.
"The people here are bringing applications to life" he assured The Reg, "finding the benefits of connectivity" and thus driving up its consumption, of course. Telefonica isn't just interested in providing connectivity across Europe, its Digital wing is developing software that could compete with many of the dreamers attending Campus Party, though (as Dunne pointed out) Telefonica isn't beyond acquiring such companies and technologies.
Telefonica won't gain directly from its sponsorship of Campus Party, but Dunne reckons a technically literate public is good for the European economy and as a company serving that economy Telefonica can only win, and being associated with hip young entrepreneurs won't do any harm either.
The hipsters themselves seem less certain. Some have certainly come for a cheap trip to London (from Barcelona, the 20-hour bus and four nights' accommodation came in at €65), and some happily admit they're here to show off their computer case modifications (laptops are not de rigueur at Campus Party) or robotic skills (a UAV attracts a lot of attention, but only briefly as the O2 dome security pounce and the drone's operator retreats).
Campus Party is a chance to see, and to be seen, which explains why the recruiters have had a hard time touting apprenticeships, and talks on raising finance have been sparsely attended.
Most of the recruitment wasn't so ad hoc, but whatever works...
That's not necessarily a bad thing: everyone needs a holiday and this one delivers to European youngsters a foreign location where one can mix with one's peers and listen to presentations on interesting geek stuff. It also explains the presence of paired people wandering the halls - we have no official figures, but kissing couples are not a staple of tech conferences in the experience of this hack, at least.
So perhaps Campus Party is Glastonbury for Geeks after all: the best part of a week spent puffed up on one's own importance seeking ethereal inspiration across main stages and side shows, only to be remembered as an unproductive, if fun, way to spend a few days justified by the ability to say "I was there". ®