Qualcomm has become the latest gadget manufacturer to decide a smartwatch is a jolly good idea, revealing the "Toq" to world+dog today.
The company says the name "Toq" is not supposed to the distinctive sound of a mechanical watch's gears moving, but is instead a riff on "talk".
Just why is hard to say. Qualcomm's canned statement about the device says it is "Designed to serve as a second display to your smartphone", a role it fills with all manner of integration and pushing of data from a smartmobe to the watch. There are some chatty features, namely a companion Bluetooth headset that "sits outside the ear canal for all day comfort and wearability" and integration with Android devices.
The watch's two big differentiators are wireless charging and and always-on screen. The first relies on the case in which the timepiece ships, as it flips open to offer a moulded slot for the watch to sit in when it's not on owners' wrists. The case can also charge the optional Bluetooth headset. The screen offers touch and is said to be an "interferometric modulator display" that "leverages the light around it so you can see your screen anywhere, even in bright sunlight".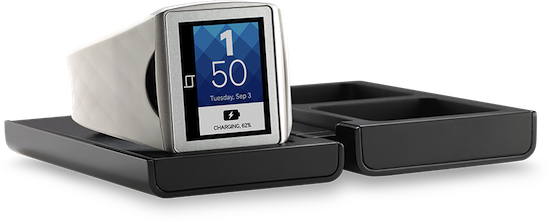 Qualcomm's Toq smartwatch in its charger/case
Qualcomm is talking up all manner of clever electronics that give the device days of battery life. That's rather more than Samsung's promised single day between charges. Qualcomm's not saying exactly how it does that, as the little material about the Toq released so far doesn't mention the chips or battery used.
Nor has the Toq's price had an airing, but Qualcomm has committed to shoving it out the door in 2013's fourth quarter. ®