The Solar System's second-largest volcano found hiding on Earth
Massive Tamu Massif as big as the British Isles
Earth's largest volcano – and possibly the second largest volcano in the Solar System – has been discovered hiding deep beneath the waves about 1,000 miles east of Japan.
How large is "largest"? According to a paper published in Nature Geoscience, the "immense shield volcano" spans about 120,000 square miles, making it equal in size to the British Isles – which, for you stateside readers who may be unfamiliar with that geographical designation, encompasses both Great Britain and Ireland.
And how deep is "deep"? Nature World News reports that the gargantuan mound's summit – its summit, mind you – lies 6,500 feet below the surface, and parts of its base lie as deep as four miles down.
It's not that the undersea volcano was unknown to geologists – it's just that they thought it was likely a volcanic range. Discovered two decades ago by William Sager of the University of Houston, the volcanic area dubbed the Shatsky Rise was thought to include a series of three immense volcanoes.
"We got tired of referring to them as the one on the left, the one on the right and the big one," Sager says of his colleagues. "We knew it was big, but we had no idea it was one large volcano." Recent research conducted by Sager and his team, however, has determined that that is in fact the case, and the undersea monster now has but one name – the one that Sagar gave to "the big one": Tamu Massif.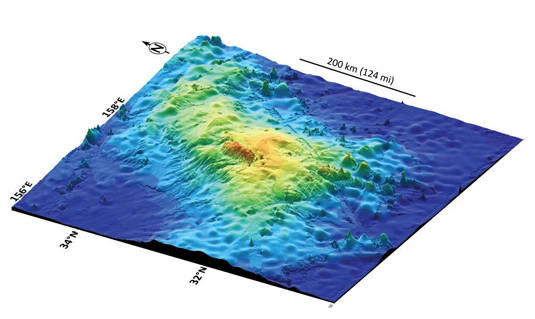 Tamu Massif's peak – in orange – may not be much to write home about, but its footprint certainly is
(source: Integrated Ocean Drilling Program of Texas A&M University; click to enlarge)
Although that name may sound as if it is of South Seas origin, it's not. Rather, Sager named it after the initials of the school where he taught at the time of his discovery – Texas A&M University – followed the French word for "massive", a geologist's term for a large mountain mass.
"We suggest that the Tamu Massif could be the largest single volcano on Earth," the Nature Geoscience paper's abstract states, "and that it is comparable in size to the largest volcano in the Solar System, Olympus Mons on Mars."
To put that size in a bit of perspective, Hawaii's Mauna Loa has a base of about 2,000 square miles – one sixtieth of the footprint of Tamu Massif.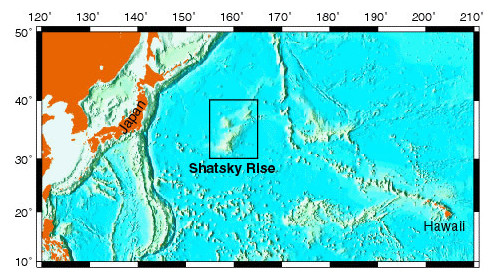 Unlike its volcanic neighbor to the southwest, the Shatsky Rise never broke water
(source: Ocean Drilling Program)
Besides being enormous, Tamu Massif is ancient – about 145 million years old, Sager estimates. He also has concluded that its last eruption was just a few million years after it was first formed. "As much as we know that anything's dead, this looks dead," he told the Houston Chronicle.
Unlike the volcanoes that formed the Hawaiian islands, Segar believes that Tamu Massif never poked its head above water. In fact, its shape is unusual in that it's not high, but is exceptionally wide and with gradual slopes.
"Its shape is different from any other sub-marine volcano found on Earth, and it's very possible it can give us some clues about how massive volcanoes can form," Segar told the tamuTimes. "An immense amount of magma came from the center, and this magma had to have come from the Earth's mantle. So this is important information for geologists trying to understand how the Earth's interior works." ®